Underground: My Life with SDS and the Weathermen (Paperback)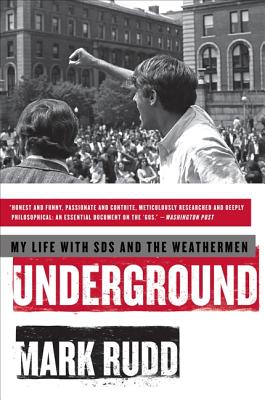 $15.99
Not currently on the shelf, but we can order it, to pick up in store or have shipped from our remote warehouse.
Description
---
"Honest and funny, passionate and contrite, meticulously researched and deeply philosophical: an essential document on the '60s." —Washington Post 
Mark Rudd, former '60s radical student leader and onetime fugitive member of the notorious Weather Underground, tells his compelling and engrossing story for the first time in Underground. The chairman of the SDS and leader of the 1968 student uprising at Columbia University, Rudd offers a gripping narrative of his political awakening and fugitive life during one of the most influential periods in modern U.S. history.
In 1968, Mark Rudd led the legendary occupation of five buildings at Columbia University, a dramatic act of protest against the university's support for the Vietnam War and its institutional racism. The charismatic chairman of the Columbia chapter of Students for a Democratic Society—the largest radical student organization in the United States—Rudd went on to become a national symbol of student revolt, and co-founded the Weathermen faction of SDS, which helped organize the notorious Days of Rage in Chicago in 1969.
But Mark Rudd wanted revolution, seeking to end war, racism, and injustice by any means necessary—even violence. By the end of 1970, he was one of the FBI's Most Wanted—and after a string of nonlethal bombings, he went into hiding for more than seven years before turning himself in to great media fanfare.
About the Author
---
Mark Rudd is now a teacher in New Mexico, where he lives with his family.
Praise For…
---
"An important contribution to a growing collection of narratives from former participants in the revolutionary 1960s' underground....deeply disturbing, though illuminating, in its unemotional matter-of-factness."
— truthdig