The Trillion-Dollar Conspiracy: How the New World Order, Man-Made Diseases, and Zombie Banks Are Destroying America (Paperback)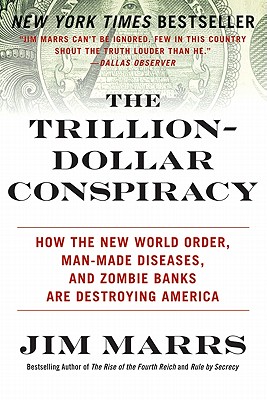 $17.99
Not currently on the shelf, but we can order it, to pick up in store or have shipped from our remote warehouse.
Description
---
"Jim Marrs can't be ignored. Few in this country shout about The Truth louder than he."
—Dallas Observer
In The Trillion-Dollar Conspiracy, Jim Marrs, the New York Times bestselling author of Rule by Secrecy and The Rise of The Fourth Reich, offers a terrifying proposition: that the current economic collapse has been engineered by a tyrannous government and multinational corporations determined to enslave us. Read The Trillion-Dollar Conspiracy and find out how the New World Order, man-made diseases, and zombie banks are destroying America.
About the Author
---
Jim Marrs is a celebrated journalist and the author of Our Occulted History, The Trillion-Dollar Conspiracy, The Rise of the Fourth Reich, Rule by Secrecy, Alien Agenda, and Crossfire: The Plot That Killed Kennedy. He lives in Texas.