Seveneves (Paperback)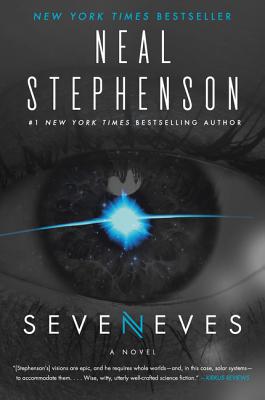 Staff Reviews
---
The moon explodes on page 1. Suddenly humanity has two years to get off the planet and survive for thousands of years. A lot of science, but also very moving and plenty of Stephenson at his best!
— From
Staff Picks - Sci-Fi & Fantasy
Description
---
SEVENEVES was included on President Obama's Summer 2016 reading list.
SEVENEVES was one of only five books recommended by Bill Gates as "must reads" for Summer 2016.
Praise For…
---
"No slim fables or nerdy novellas for Stephenson: his visions are epic, and he requires whole worlds-and, in this case, solar systems-to accommodate them....Wise, witty, utterly well-crafted science fiction."

"Stephenson's remarkable novel is deceptively complex, a disaster story and transhumanism tale that serves as the delivery mechanism for a series of technical and sociological visions… there's a ton to digest, but Stephenson's lucid prose makes it worth the while."

"The huge scope and enormous depth of the latest novel from Stephenson is impressive… a major work of hard sf that all fans of the genre should read."

"Well-paced over three parts covering 5,000 years of humanity's future, Stephenson's monster of a book is likely to dominate your 2015 sf-reading experience."

"[Stephenson] plays with hard ballistics, hard genetics, hard sociology. And what thrills me, is that he makes it interesting. That he makes life and death in space about actual life and death ."

"Written in a wry, erudite voice...Seveneves will please fans of hard science fiction, but this witty, epic tale is also sure to win over readers new to Stephenson's work."

"Seveneves offers at once [Stephenson's] most conventional science-fiction scenario and a superb exploration of his abiding fascination with systems, philosophies and the limits of technology.… Stephenson's central characters, mostly women, serve as a welcome corrective to science-fiction clichés."

"Seveneves can be fascinating. . . . Insights into the human character shine like occasional full moons."

"[A] novel of big ideas, but it's also a novel of personalities, of heart, and of a particular kind of hope that only comes from a Stephenson story. Science fiction fans everywhere will love this book."

"Stephenson… knows the life-sustaining power of storytelling, since storytelling is what he does…Today's post-apocalyptic stories routinely aim to convey the loss of the old world through the personal losses of a few characters. Stephenson makes you feel the loss of Earth on the scale it deserves."

"This is hard sci-fi in a real and welcome sense, ruled by unremitting physical laws, unlike the negotiable rules of the action thriller."

"Stephenson's storytelling style combines the conversational and the panoramic, allowing him to turn his piercing gaze on the familiar aspects of a strange future, encompassing the barely conceivable detail by detail."