Rise to Globalism: American Foreign Policy Since 1938, Ninth Revised Edition (Paperback)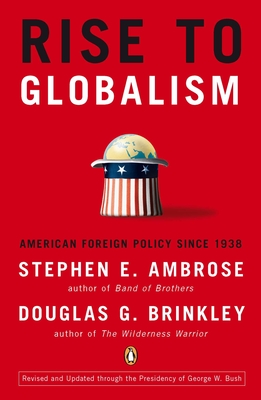 $21.00
Not currently on the shelf, but we can order it, to pick up in store or have shipped from our remote warehouse.
Description
---
Since it first appeared in 1971, Rise to Globalism has sold hundreds of thousands of copies. The ninth edition of this classic survey, now updated through the administration of George W. Bush, offers a concise and informative overview of the evolution of American foreign policy from 1938 to the present, focusing on such pivotal events as World War II, the Cuban Missile Crisis, Vietnam, and 9/11. Examining everything from the Iran-Contra scandal to the rise of international terrorism, the authors analyze-in light of the enormous global power of the United States-how American economic aggressiveness, racism, and fear of Communism have shaped the nation's evolving foreign policy.
About the Author
---
Stephen E. Ambrose is Director Emeritus of the Eisenhower Center, retired Boyd Professor of History at the University of New Orleans, and president of the National D-Day Museum. He is the author of over twenty books including the bestsellers Undaunted Courage, Citizen Soldiers, and D-Day, multiple biographies of Dwight D. Eisenhower and Richard Nixon, and his compilation of 1,400 oral histories from American veterans.