Slammerkin (Paperback)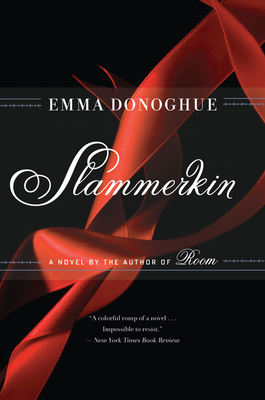 $15.00
CURRENTLY OUT OF STOCK: PLEASE CALL or EMAIL FOR AVAILABILITY
Description
---
Slammerkin: A loose gown; a loose woman.

Born to rough cloth in Hogarth's London, but longing for silk, Mary Saunders's eye for a shiny red ribbon leads her to prostitution at a young age. A dangerous misstep sends her fleeing to Monmouth, and the position of household seamstress, the ordinary life of an ordinary girl with no expectations. But Mary has known freedom, and having never known love, it is freedom that motivates her. Mary asks herself if the prostitute who hires out her body is more or less free than the "honest woman" locked into marriage, or the servant who runs a household not her own? And is either as free as a man? Ultimately, Mary remains true only to the three rules she learned on the streets: Never give up your liberty. Clothes make the woman. Clothes are the greatest lie ever told.

About the Author
---
Born in Ireland, Emma Donoghue spent many years in England and now lives in Canada. She is the author of Slammerkin as well as two other novels, a collection of short stories, and a collection of fairy tales. Her novels have been translated into eight languages.
Praise For…
---
PRAISE FOR SLAMMERKIN

"Superb . . . A novel of real force, filled with unforgettable sights . . . A profoundly entertaining and intelligent book."--Elle
"[A] colorful romp of a novel . . . Impossible to resist. Donoghue paints a spirited picture. . . . Fabulous."--The New York Times Book Review
"Intelligent and mesmerizing."--Publishers Weekly (starred review)
"This book rocks from the title on. A spectacular job."--USA Today
"What a great read this book is! Donoghue is a real writer, and she's elevated her racy story close to art."--The Washington Post Book World
"[A] transporting read."--Mademoiselle