The Prince: Second Edition (Paperback)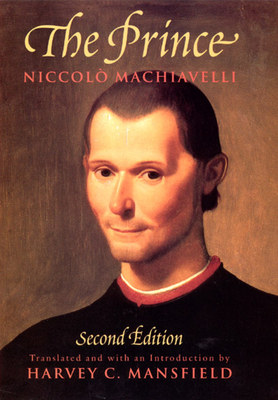 Email or call for price.
Not currently on the shelf, but we can order it, to pick up in store or have shipped from our remote warehouse.
Description
---
The most famous book on politics ever written, The Prince remains as lively and shocking today as when it was written almost five hundred years ago. Initially denounced as a collection of sinister maxims and a recommendation of tyranny, it has more recently been defended as the first scientific treatment of politics as it is practiced rather than as it ought to be practiced. Harvey C. Mansfield's brilliant translation of this classic work, along with the new materials added for this edition, make it the definitive version of The Prince, indispensable to scholars, students, and those interested in the dark art of politics.

This revised edition of Mansfield's acclaimed translation features an updated bibliography, a substantial glossary, an analytic introduction, a chronology of Machiavelli's life, and a map of Italy in Machiavelli's time.

"Of the other available [translations], that of Harvey C. Mansfield makes the necessary compromises between exactness and readability, as well as providing an excellent introduction and notes."—Clifford Orwin, The Wall Street Journal

"Mansfield's work . . . is worth acquiring as the best combination of accuracy and readability."—Choice

"There is good reason to assert that Machiavelli has met his match in Mansfield. . . . [He] is ready to read Machiavelli as he demands to be read—plainly and boldly, but also cautiously."—John Gueguen, The Sixteenth Century Journal
About the Author
---
Niccolò Machiavelli (1469–1527) was a diplomat, politician, and philosopher of the Italian Renaissance. Modern political philosophy and political science is founded on Machiavelli's writings. He served for many years as a senior official in the Florentine Republic with responsibilities in diplomatic and military affairs. When the Medicis came to power, he was imprisoned and then retired to the writing of his works of political philosophy.  
Harvey C. Mansfield is the William R. Kenan Jr. Professor of Government at Harvard University. He is the author of Machiavelli's Virtue and has translated The Prince, Discourses on Livy (with Nathan Tarcov), and Alexis de Tocqueville's Democracy in America (with Delba Winthrop), all published by the University of Chicago Press.