Case of a Lifetime (Paperback)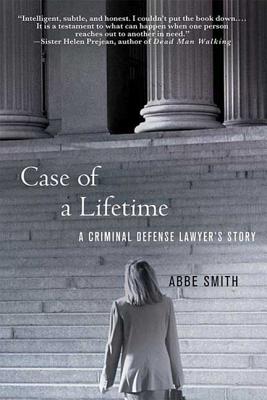 Description
---
A recent study estimates that thousands of innocent people are wrongfully imprisoned each year in the United States. Some are exonerated through DNA evidence, but many more languish in prison because their convictions were based on faulty eyewitness accounts and no DNA is available. Prominent criminal lawyer and law professor Abbe Smith weaves together real life cases to show what it is like to champion the rights of the accused. Smith describes the moral and ethical dilemmas of representing the guilty and the weighty burden of fighting for the innocent, including the victorious story of how she helped free a woman wrongly imprisoned for nearly three decades.
For fans of Law and Order and investigative news programs like 20/20, Case of a Lifetime is a chilling look at what really determines a person's innocence.
About the Author
---
Abbe Smith, director of the Criminal Justice Clinic and professor of law at Georgetown Law School, is the recognized expert on legal ethics. She is a regular contributor to The New York Times, Boston Globe, Philadelphia Daily News, National Law Journal, and The Atlantic Monthly. She lives in Washington, D.C.
Praise For…
---
"The book's strength is Smith's openness about her life as a criminal defense attorney and her sophisticated thinking about the moral and ethical dilemmas criminal lawyers routinely navigate, such as how to represent the guilty, how far to go to ensure their clients' freedom and the ultimate question, what is their responsibility to the truth? Aspiring lawyers and anyone interested in the criminal justice system will benefit from reading Smith's account."--Publishers Weekly
"A captivating, emotionally intense investigation of the complicated relationship between truth and the justice system."--Kirkus Reviews (starred)
 "This is an extraordinary, profoundly moving book.  Abbe Smith tells the story of Patsy Kelly Jarrett, who spent 28 years in prison for a crime she did not commit--and tells her own story.  She was Kelly's volunteer lawyer, and over those years she became Kelly's desperate friend.  I know of no other book that says as much about a defense lawyer's motivations, self-doubt, frustrations.  I finished it with tears in my eyes." --Anthony Lewis, Pulitzer Prize winning author of Freedom for the Thought that We Hate: a Biography of the First Amendment
"This is a substantial work: intelligent, subtle, and honest. I couldn't put the book down. Abbe Smith examines a range of complex issues with insight and wit - the challenge innocence poses in a system focused on processing the guilty, the complicated relationship between truth and proof, the impossibility and importance of hope for long-time prisoners, the struggle for meaning for anyone who ventures into the criminal justice system. The way the author turns her skepticism on herself, without mercy, is especially engaging and impressive. In the end, the book transcends lawyers and clients, guilt and innocence, crime and punishment. It is a testament to what can happen when one person reaches out to another in need."--Sister Helen Prejean, author of Dead Man Walking
"A wonderful writer … Clear transparent style in telling of things [that are] so complicated and deep. Unaffected, unpretentious to an amazing degree. A real feminist book--as well as a defender story."--Barbara Babcock, Judge John Crown Professor of Law, Emerita, Stanford University Law School
"Less a story of law than of two extraordinary people. Kelly Jarrett had barely left adolescence when she found herself spending the rest of her youth and much of her adult life behind bars. And yet she managed to preserve her sense of self. Smith was the attorney who, even as she pursued a glittering career that included teaching at Harvard Law, still had to help free Jarrett.... A moving and important book. We're bombarded with TV dramas about cops and crime and the pursuit of justice. "Case of a Lifetime" offers a disconcerting look at the realities that determine why some people walk free and others spend their lives in prison." --
Boston Globe
 "A stunningly honest book. In this compelling story of her 25-year fight on behalf of an innocent woman imprisoned for murder, Abbe Smith candidly and dramatically portrays the frustrations and triumphs, ugliness and nobility of criminal defense. You will never read a truer, more informative, or more moving account of what we call criminal justice." --Monroe H. Freedman, Professor of Law (former Lichtenstein Distinguished Professor of Legal Ethics), Hofstra University School of Law. 
"As they say on dust jackets, 'I couldn't put it down.' It is a heartwarming story and also an outrageous one."—Robert Condlin, Professor of Law, University of Maryland