Churchill's Empire: The World That Made Him and the World He Made (Paperback)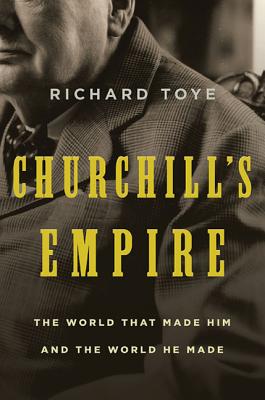 $23.99
Not currently on the shelf, but we can order it, to pick up in store or have shipped from our remote warehouse.
Description
---
This is the first book to provide a comprehensive account of Churchill's lifelong involvement with the empire, from the early stages of his childhood that shaped his imperialist outlook to his emergence as a self-made hero. Instead of locating him on a left/right spectrum, Toye presents Churchill as a human being, a man whose imperialist outlook brought both acclaim and dread. Churchill was a powerful leader who believed in the strength of his race, but not necessarily the human race—he stood alone against Hitler, but he was also an imperialist who equated Gandhi with Hitler, celebrated racism, and believed India would always remain unsuited to democracy.
"Toye traces Churchill's shifts and velleities with impressive skill and erudition, using a vast range of contemporary newspapers to particularly good effect" (Literary Review). Toye, named Young Academic Author of the Year by Times Higher Education magazine in 2007, has synthesized the details of Churchill's life to produce "a thought-provoking, sensitive account of the nerve and muscle of empire" (Daily Express).
About the Author
---
Richard Toye was born in Cambridge, U.K. in 1973. He studied at the universities of Birmingham and Cambridge, and is now an associate professor at the University of Exeter. He has written extensively on British and international history. In 2007 he was named Young Academic Author of the Year by Times Higher Education magazine for his book Lloyd George and Churchill: Rivals for Greatness.
Praise For…
---
"Superb, unsettling new history .... Can these clashing Churchills be reconciled? Do we live, at the same time, in the world he helped to save and the world he helped to trash? Toye, one of Britain's smartest young historians, has tried to pick through these questions dispassionately .... Of course, it's easy to dismiss any criticism of these actions as anachronistic. Didn't everybody in Britain think that way then? One of the most striking findings of Toye's research is that they really didn't: even at the time, Churchill was seen as standing at the most brutal and brutish end of the British imperialist spectrum .... Toye is no Nicholson Baker, the appalling pseudo-historian whose recent work Human Smoke presented Churchill as no different from Hitler. Toye sees all this, clearly and emphatically .... In the end, the words of the great and glorious Churchill who resisted dictatorship overwhelmed the works of the cruel and cramped Churchill who tried to impose it on the world's people of color. Toye teases out these ambiguities beautifully. The fact that we now live at a time where a free and independent India is an emerging superpower in the process of eclipsing Britain, and a grandson of the Kikuyu 'savages' is the most powerful man in the world, is a repudiation of Churchill at his ugliest--and a sweet, unsought victory for Churchill at his best." —Johan Hari, The New York Times Book Review
"Indeed, it is not too much to say that the story of Churchill's life is the story of his view, vision, and valiant defense of the British Empire--the duties of empire and the maintenance of empire, the idea of empire and the ideals of empire. So it is surprising that, until Richard Toye took on the task, little has been written in book form about Churchill and the British Empire .... What is not generally or popularly recognized--but rectified by Toye--is that there were many Churchillian views on empire .... Toye argues convincingly that Churchill's views on empire were not a fixed thing--and were not designed simply to enhance Britain's role in the world .... The Empire faded as Churchill's life did. But there was triumph after all, perhaps even a bit of poetry. The glory of them both--Empire and Churchill--survives them both." —David M. Shribman, The Boston Globe
"Not a conventional biography, this is a probing and thoroughly enjoyable life focusing on the contradictions and dilemmas of Churchill's imperialism.... Even veterans of Churchilliana will find plenty of fresh material, recounted with wit and insight into a man whose values were shaped by an age that no longer existed." —PW, Starred Review
"Toye's central thesis is that Churchill's beliefs and actions were less predictable and more nuanced than his rhetoric and conventional wisdom suggest.... This is a carefully researched and exceptionally well-documented book that is a welcome addition to the literature. It is not a traditional biography but more of a study of Churchill's behavior in a central area of his career. It makes extensive use of government archives, diaries, and secondary sources. The citation of newspaper articles to underscore the broader reaction to Churchill's actions is especially welcome. It is fascinating reading." —Terry Hartle, The Christian Science Monitor
"A dense, forgiving study of the great British leader who was both of his time and flexible enough to transcend it.... Toye considers this enormously complicated subject with admirable equanimity." —Kirkus Reviews
"Lord Beaverbrook once said that Churchill had held every opinion on every subject and what Richard Toye demonstrates above all is that his opinions on the British Empire were anything but simple or consistent.... Toye traces Churchill's shifts and velleities with impressive skill and erudition, using a vast range of contemporary newspapers to particularly good effect.... An important and original book." —Piers Brendon, Literary Review
"Toye offers a nuanced portrait of Churchill as an imperialist that contradicts some of the simplistic views of him as a reactionary, Colonel Blimp-type character.... This work is a valuable contribution to greater understanding of an historical icon." —Jay Freeman, Booklist
"Lucid and engaging.... Toye should be congratulated for steering clear of either simple apologia or political correctness. Following reviews, diaries and letters, he recreates the broad spectrum of imperialism at the time and presents Churchill's drift into die-hard mode as a conscious move of political repositioning.... Churchill lovers will gain a clear sense of the culture and politics that has shaped his imperial outlook. At the same time, they will find a judicious account of the limitations of Churchill's power.... Rather than yet another biography of Churchill, Toye has given us a thought-provoking, sensitive account of the nerve and muscle of empire." —Frank Trentmann, The Daily Express
"There have been numerous studies of various aspects of Churchill's relationship with the empire, but this is the first attempt at a comprehensive treatment in a single volume. It's a complex and fascinating story.... What emerges from this densely argued book is that [Churchill's] support for the empire was not for its own sake but as a means of keeping Britain itself as a factor on the world stage. As it declined, his concept of the commonwealth of English-speaking peoples as a major world force took its place. In the end, perhaps his greatest achievement was to accept the empire's fall and dress it up as victory." —David Stafford, BBC History Magazine
"Winston Churchill's reputation as a hardline imperialist is questioned here.... This detailed, engaging biography dwells on the dichotomy between Churchill pre- and post-second world war: between a time he was considered almost a danger to the empire, and a time he was considered its saviour." —Emmanuelle Smith, Financial Times
"An impressive new study.... This fascinating book shows how, during the second half of his career, that [die-hard] image came to replace the earlier picture where he appeared as a conciliatory figure--and even as a danger to the Empire he cherished and used against threats to Britain." —John Hinton, The Catholic Herald
"The Churchill we salute as a lover of freedom and hater of tyranny muttered about kaffirs and blackamoors, and bore a lifelong commitment to subjecting swathes of the world to unwelcome British rule. How so? For answers, we may turn to Richard Toye's excellent new book.... Toye presents Churchill as a complex, flexible, and ultimately a moral imperial thinker." —Dan Jones, The Spectator
"Anyone with an interest in 20th-century history or in Churchill will find much that is surprising in this meticulously researched book, which is nevertheless written with great style and clarity." —Susan Hill, The Lady