Gone with the Mind (Hardcover)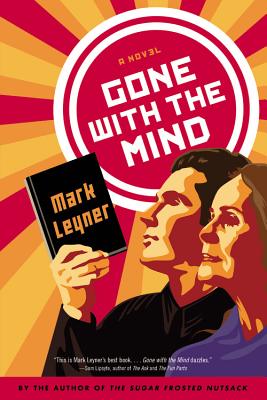 Description
---
The blazingly inventive fictional autobiography of Mark Leyner, one of America's "rare, true original voices" (Gary Shteyngart).

Dizzyingly brilliant, raucously funny, and painfully honest, Gone with the Mind is the story of Mark Leyner's life, told as only Mark Leyner can tell it. In this utterly unconventional novel -- or is it a memoir? -- Leyner gives a reading in the food court of a New Jersey shopping mall.

The "audience" consists of Mark's mother and some stray Panda Express employees, who ask a handful of questions. The action takes place entirely at the food court, but the territory covered in these pages has no bounds. A joyride of autobiography, cultural critique, DIY philosophy, biopolitics, video games, demagoguery, and the most intimate confessions, Gone with the Mind is both a soulful reckoning with mortality and the tender story of the relationship between a complicated mother and an even more complicated son.

At once nostalgic and acidic, deeply humane, and completely surreal, Gone with the Mind is a work of pure, hilarious genius.
About the Author
---
Mark Leyner is the author of the novels Gone with the Mind, The Sugar Frosted Nutsack; My Cousin, My Gastroenterologist; Et Tu, Babe; and The Tetherballs of Bougainville. His nonfiction includes the #1 New York Times bestseller Why Do Men Have Nipples?. Leyner cowrote the movie War, Inc. He currently lives in Hoboken, New Jersey.
Praise For…
---
"This is Mark Leyner's best book, and that's saying something. He's always been the benchmark when it comes to comic brilliance and anarcho-absurdist zeal, and this book is as charged and hilarious as anything he's written. But
Gone With The Mind
dazzles in even stranger and more incisive ways, and, as the smoke clears from the stunning fireworks of Leyner's prose, a moving portrait of a mother and son emerges. Mark Leyner has finally bared his post-human heart."—
Sam Lipsyte, author of The Ask and The Fun Parts
"Truly absurd and absurdly true."
—
Charlie Jane Anders, New York Times
"Dazzling, hilarious, heartfelt and entirely-mind-blowingly-original, Mark Leyner's fictional memoir,
Gone With The Mind
, confirms the author's status as one of the most singular, wild-ass and brilliantly fearless voices in American literature. In prose that is equal parts Roth, Joyce,
Scientific American
and the Marx Brothers,
Gone With The Mind
delineates the deep soul and life story of man staring down the barrel of mortality-in the food court of a New Jersey mall. There isn't a convention Mark Leyner does not shatter, nor an aspect of 21st century culture-from robot rape to first person shooter games-he does not reexamine and render fresh. Quite possibly the first literary work of genius-comic and otherwise-of the new millennium."—
Jerry Stahl, author of Permanent Midnight
"It's almost impossible to write something that's this out-and-out hilarious
and
this touching, this moving. But Leyner's done it. The guy has a mother of a mind. Don't know quite how it gets him to the grocery store and back, but it's given birth to this astonishing, completely openhearted, completely unprecedented book."—
Amy Heckerling, writer, director, Fast Times at Ridgemont High, Clueless
"So utterly blown away by this book! If your average autobiography has a writer painting a self-portrait with oils or watercolors,
Gone With The Mind
sees Mark Leyner gleefully vivisecting himself. You will
know
Mark Leyner-biblically, medically, metaphysically, and otherwise-when you do yourself the mitzvah of reading it. I envision other authors' memoirs shuffling off shelves into trashcans when Leyner's book is placed alongside them. It's going to knock your socks off."—
Rob Delaney, co-writer and star of Catastrophe
"A novel that is, by turns, autobiographical, fictional, touching and just flat-out insane.... I loved the thing."
—
Jason Sheehan, NPR
"Did you ever wonder who birthed the current crop of post-modern darlings? Look no further then Mark Leyner. Leyner is the original charged particle, formally inventive, hilariously funny, completely original. His newest work,
Gone With The Mind
, both satirizes the non-fiction novel and infuses it with his signature surreal pathos. Think Beckett on acid. Read this book."—
Darcey Steinke, author of Sister Golden Hair
"There's a sweet story to be had [here] for those who appreciate the author's singularly outlandish wit.... Buy the ticket and take the ride."
—
Kirkus
"Absurd and profound."
—
The Millions
"Whimsical and unconventional, this is probably Leyner's most mature work. There is plenty of sincere storytelling throughout, and Leyner's masterly ability to interlace humor with existential dilemmas makes for a compelling novel, autobiographical or not."
—
Publishers Weekly
"Every bit as self-referential and genre-bending as his previous fiction.... An exercise in deferred gratification that is itself immensely entertaining and surprisingly gratifying."
—
Kathleen Rooney, Chicago Tribune
"Electrifying and theatrical.... You never know what Mark is going on about, but you can't stop listening."
—
Kenneth Champeon, BookPage
"[A] high-spirited satiric romp."
—
Jonathan Dee, Harper's
"Totally wild, dark, zany, and fun."
—
Josie Adams, Bon Appétit
"Trippy, hilarious."
—
New York Magazine
"Structurally daring, stylistically innovative....
Gone With The Mind
provides a welcome kick to the autobiography genre."—
Ryan Vlastelica, A.V. Club
"Exhilarating.... One of the most refreshing pieces of psychoanalytic fiction we've come across."
—
Paolo Vergara, ZYZZYVA
"Compulsively readable....
Gone with the Mind
isn't the first novel that fictionalizes its author, and it won't be the last, but it is absolutely one of the most inventive displays of this delicate sort of fictional act."—
Steven Petite, The Millions
"Aesthetically radical, but poignantly human - in the way the best stand-up comedy is.... It's wholly provocative, confrontational, unsettling and insightfully funny. And smart. Did I mention smart? This is the voice of an OG polymath spitting epistemology, Japanese otaku culture, post-humanism, manga, zoology, Hollywood, post-structuralism, brutalist architecture, media studies, sports trivia, lexicography, 1,000 years of literature and a million other things like Kendrick Lamar, but all for a purpose and seamlessly and with total control: it's a beautiful thing to watch."
—
Ed Taylor, Buffalo News
"A wicked and weird trip through the absurdly funny author's life and psyche."—
Jim Kiest, San Antonio Express-News