The Great Fire (Hardcover)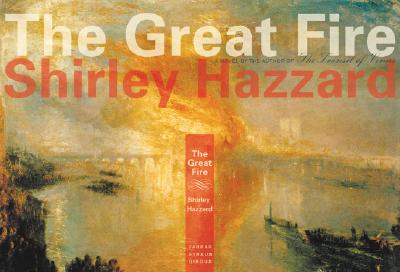 Email or call for price.
NOT AVAILABLE PLEASE DON'T ORDER
Description
---
A great writer's sweeping story of men and women struggling to reclaim their lives in the aftermath of world conflict     The Great Fire is Shirley Hazzard's first novel since The Transit of Venus, which won the National Book Critics Circle Award in 1981. The conflagration of her title is the Second World War. In war-torn Asia and stricken Europe, men and women, still young but veterans of harsh experience, must reinvent their lives and expectations, and learn, from their past, to dream again. Some will fulfill their destinies, others will falter. At the center of the story, Aldred Leith, a brave and brilliant soldier, finds that survival and worldly achievement are not enough. Helen Driscoll, a young girl living in occupied Japan and tending her dying brother, falls in love, and in the process discovers herself.    In the looming shadow of world enmities resumed, and of Asia's coming centrality in world affairs, a man and a woman seek to recover self-reliance, balance, and tenderness, struggling to reclaim their humanity.     The Great Fire is the winner of the 2003 National Book Award for Fiction.
About the Author
---
Shirley Hazzard is the author, most recently, of "Greene on Capri," a memoir of Graham Greene, and several works of fiction, including "The Evening of the Holiday," "The Bay of Noon," and "The Transit of Venus," winner of the 1981 National Book Critics Circle Award. She lives in New York City and Capri.
Praise For…
---
"I wish there were a set of words like 'brilliant' and 'dazzling' that we saved for only the rarest occasions, so that when I tell you The Great Fire is brilliant and dazzling you would know it is the absolute truth. This is a book that is worth a twenty-year wait."
--Ann Patchett, author of Bel Canto

"Shirley Hazzard has written an hypnotic novel that unfolds like a dream: Japan, Southeast Asia, the end of one war and the beginning of another, the colonial order gone, and at the center of it all, a love story."
--Joan Didion

"The Great Fire is a brilliant, brave and sublimely-written novel that allows the literate reader 'the consolation of having touched infinity.' This wonderful book, which must be read at least twice simply to savor Hazzard's sentences and set-pieces, is among the most transcendent works I've ever had the pleasure of reading."
--Anita Shreve