Empire: The Rise and Demise of the British World Order and the Lessons for Global Power (Paperback)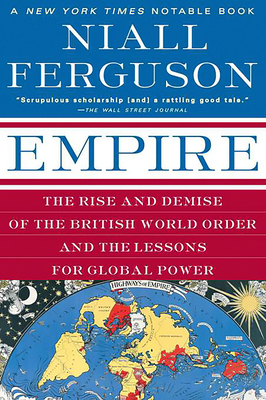 $19.99
Not currently on the shelf, but we can order it, to pick up in store or have shipped from our remote warehouse.
Description
---
A bestselling historian shows how the British Empire created the modern world, in a book lauded as "a rattling good tale" (Wall Street Journal) and "popular history at its best" (Washington Post)

The British Empire was the largest in all history: the nearest thing to global domination ever achieved. The world we know today is in large measure the product of Britain's Age of Empire. The global spread of capitalism, telecommunications, the English language, and institutions of representative government -- all these can be traced back to the extraordinary expansion of Britain's economy, population and culture from the seventeenth century until the mid-twentieth. On a vast and vividly colored canvas, Empire shows how the British Empire acted as midwife to modernity.

Displaying the originality and rigor that have made Niall Ferguson one of the world's foremost historians, Empire is a dazzling tour de force -- a remarkable reappraisal of the prizes and pitfalls of global empire.
About the Author
---
Niall Ferguson is one of the world's most renowned historians and author of numerous books, including The Square and the Tower, The Ascent of Money, and Civilization. He is Senior Fellow at the Hoover Institution, Stanford University, and a Visiting Professor at Tsinghua University, Beijing.
Praise For…
---
A New York Times Notable Book

"Scrupulous scholarship [and] a rattling good tale."—Wall Street Journal

"A concise and lucid exposition...Popular history at its best."—Washington Post

"Ferguson...is a wonderfully fluent writer, weaving telling details and vivid anecdotes seamlessly into his narrative."—New York Times

"An entertaining, engaging romp through four centuries of British imperialism."—Los Angeles Times

"Fluently written, engaging...Empire is a model of how to do popular history."—The Economist