Five Myths About Nuclear Weapons (Paperback)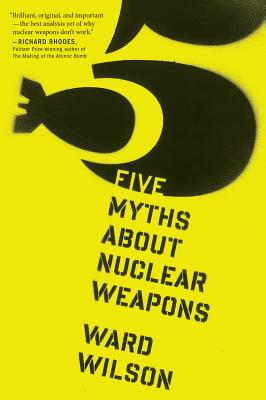 $14.95

Not currently on the shelf, but we can order it, to pick up in store or have shipped from our remote warehouse.
Description
---
"Five Myths About Nuclear Weapons is accessible, short and breathless. It has the tone of a TED talk: an avid speaker bursting with one big idea and eighteen minutes to hold your attention." —New York Times

Nuclear war would be an apocalypse. Nuclear deterrence is effective in a crisis. Nuclear weapons shock and awe opponents. Killing civilians causes leaders to back down. The bomb has kept the peace for sixty-five years. These are the things we think we know about nuclear weapons, but it turns out they are myths, myths that nonetheless still shape our nuclear policy.

In Five Myths About Nuclear Weapons, Ward Wilson blows the lid off the stale debate surrounding nuclear weapons, stripping away emotion and exaggeration. By drawing on new facts and historical research, Wilson methodically shatters each of these myths in turn. His conclusions will surprise you, enlighten you, and spur debates about whether nuclear weapons have any power and importance in the twenty-first century.
About the Author
---
WARD WILSON is a senior fellow at the Center for Nonproliferation Studies of the Monterey Institute of International Studies. He has spoken before governments and at think tanks and universities, including Stanford, Princeton, Georgetown, the Naval War College, and the United Nations.
Praise For…
---
"Magisterial in its sweep, research, and erudition, yet written in a direct, unstuffy style, which makes it an easy read."
— Commander Robert D. Green, Royal Navy (ret.) "Brilliant, original, and important — the best analysis yet of why nuclear weapons don't work."
— Richard Rhodes, Pulitzer Prize-winning author of The Making of the Atomic Bomb "A superb examination of both historical and present day issues surrounding nuclear weapons of war. No matter your background or expertise, before you say or do anything else regarding 'nukes,' I'd strongly recommend you read and give serious consideration to the arguments in this terrific work."
— General B. B. Bell, U.S. Army (ret.) "Nine nations now possess nuclear weapons and a tenth seems intent on acquiring them. These states and their governments pose an existential threat to all humanity. Ward Wilson's brilliant deconstruction of the myths which cause states to pursue nukes and cling to their arsenals is an important step toward a saner world free of nuclear dangers."
— Barry Blechman, Cofounder/Distinguished Fellow, The Stimson Center "What makes his case so convincing (though not all will be convinced) is that he makes it not in the spirit of Utopian idealism, but fact-facing pragmatism." — Kirkus,starred review "This slim, persuasively argued, tightly written book provides much food for thought and could make some readers radically change their perceptions about nuclear weapons." — Booklist "Concise analysis...Wilson's theories are certain to create discussion and a reevaluation of assumptions on the topic." - Publishers Weekly, starred review"Concise analysis...Wilson's theories are certain to create discussion and a reevaluation of assumptions on the topic." — Publishers Weekly, starred review