The Art Book for Children (Hardcover)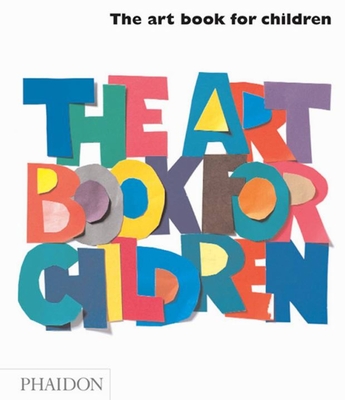 Other Books in Series
This is book number 1 in the Art Book for Children series.
Description
---
"
A perfect introduction to art for children everywhere, The Art Book for Children brings the clarity and innovation of Phaidon's bestselling The Art Book to our youngest readers ever. A guide to 30 great artists and their most famous works, designed for both parent and child to enjoy together. The book encourages children to look closely and use their imagination to understand why artists choose to create the work they do and in the way that they do it.
From Leonardo's iconic Mona Lisa to Andy Warhol's equally iconic Marilyn, and from Jeff Koons' exuberant, flower‐encrusted Puppy to Grant Wood's severe American Gothic, 30 artists have been selected from the original The Art Book for their significance in art history as well as their appeal to children.
The giants of art history such as Van Gogh, Matisse, Rembrandt, Turner and Velazquez are all here, but The Art Book for Children also offers its readers an introduction to challenging, recent artists including Cindy Sherman and Donald Judd. The Art Book for Children makes this broad, exciting selection of 30 key artists across the history of art clear and accessible to children from age seven and upward, but will be of interest to readers of all ages.
"
About the Author
---
"
Amanda Renshaw, formerly a specialist in Impressionist and Modern Art at Christies, is currently Editorial Director at Phaidon Press.
Gilda Williams Ruggi is an art critic whose texts have appeared in Tate Magazine, Art in America, Parkett and numerous other art journals. Formerly Commissioning Editor for Contemporary Art at Phaidon Press and Managing Editor of Flash Art International.
"
Praise For…
---
"
"Phaidon's child‐friendly version of its staggeringly successful The Art Book goes into far more detail than the original. Instead of a one‐artist‐to‐a‐page format, double‐page spreads are devoted to 30 works from the fifteenth‐century to the present, allowing for a wealth of related imagery. Obviously designed to fire young imaginations into looking beyond the frame, the template would improve many 'ground‐up' art encyclopedias. . . designed to spark creative responses in young readers of all ages, whether their thing is painting and drawing, counting, dressing up or solving puzzles. There's even the possibility that, sitting side by side with their respective tomes, kids might learn more than their parents will about the subject." – Time Out
"A perfect introduction to art for parents and children to enjoy together. . . Simple, clear and fun." – Guardian
"A delightful book that will encourage readers, young and old, to see beyond the obvious." – The Good Book Guide
"Is it possible that a nine‐year‐old child will nag their parents to read them a book about the adventures of Gilbert & George, Cindy Sherman and Leonardo da Vinci rather than the latest Jacqueline Wilson or Harry Potter? If it is written with the style, humor and spirit of this mind expanding art book for kids, then the answer is definitely yes. . . it's really good fun and perfect for junior school kids into art – and any parent scared off by the usual pretentious approach to art appreciation...very inspiring. Your kids will be making Jackson Pollock‐style creations out of mashed potato and ketchup on the kitchen ceiling before you know it." – Guardian
"Should become a childhood treasure. . . Hopefully, the delight gained from peering into such large and beautiful reproductions, as well as the enlightenment gained from a text that respects the reader's own response, will encourage children to carry a love of art with them into adulthood." – Royal Academy of Arts Magazine
"The ideal book to introduce children to the great painters, as well as more contemporary artists." – Junior
"Phaidon's The Art Book For Children is a real gem. . . One can't help thinking, all art books were so much fun." – Independent
"The Art Book For Children draws young readers first into the subject, then deftly into the form, of paintings from the Mona Lisa to Warhol's Marilyn Monroe." – The Times
"It is stylish, and exciting without being silly." – Sunday Times Culture
"Stylish, welcoming introduction to art, covering an amazing range of artists from Leonardo to Gilbert and George. The book is bursting with exuberant questions (how do you paint feelings?) and determined to open young eyes and minds." – Observer
"An excellent introduction to the world's greatest artists. . . classy and thought‐provoking." – Daily Mail
"