Rise of the Revisionists: Russia, China, and Iran (American Enterprise Institute) (Hardcover)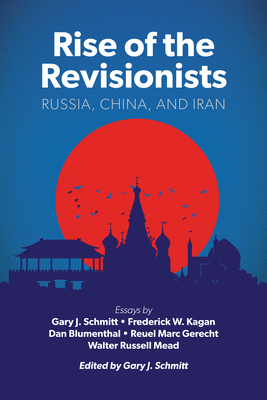 Email or call for price.
Not currently on the shelf, but we can order it, to pick up in store or have shipped from our remote warehouse.
Description
---
Rise of the Revisionists: Russia, China, and Iran is a five-essay volume, edited by the American Enterprise Institute's Gary J. Schmitt, that examines the three rising powers as they challenge the US and the global order in three critical regions of the world. Essays by the American Enterprise Institute's Frederick W. Kagan on Russia and Dan Blumenthal on China and by Foundation for the Defense of Democracies Senior Fellow Reuel Marc Gerecht on Iran analyze the historical roots of each country's ambitions, their strategic goals, and possible US policies for meeting the challenges and threats posed by each. Those essays are framed by an introduction by Gary Schmitt that places the tests facing the US foreign policy in a broader strategic framework and by a concluding essay by Hudson Institute Scholar Walter Russell Mead that looks to the Father of History, Thucydides, to provide insight into the complex set of domestic and foreign realities that shape American statecraft in this most challenging time.
About the Author
---
Gary J. Schmitt is resident scholar and co-director of the Marilyn Ware Center for Security Studies at the American Enterprise Institute (AEI). He is also director of AEI's Program on American Citizenship. Schmitt is a former staff director on the Senate Select Committee on Intelligence, executive director of the President's Intelligence Advisory Board, and executive director of the Project for the New American Century. Among his most recent books in national security are A Hard Look at Hard Power: Assessing the Defense Capabilities of Key Allies and Security Partners (Strategic Studies Institute, 2015), Safety, Liberty and Islamist Terrorism: American and European Approaches to Domestic Counterterrorism (AEI Press, 2010), and The Rise of China: Essays on the Future Competition (Encounter Books, 2009). Schmitt has a B.A. in politics from the University of Dallas and a M.A. and Ph.D. in political science from the University of Chicago.