Story Like a Journalist (Paperback)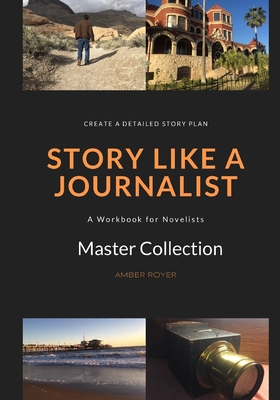 $36.00

Not currently on the shelf, but we can order it, to pick up in store or have shipped from our remote warehouse.
Description
---
Want to write novels that feel real enough to the reader to have been ripped from the headlines, whatever your genre? Think like a journalist. Looking at the questions journalists ask can help you think of the characters and events in your story as real people, whose lives you are recording, just like you were writing memoir or a news article.
Approach planning your novel the way a journalist plans out writing a news piece. They figure out what they will need to research for the piece, and decide how they will structure that research into a narrative. They decide on a format for the story's lede (opening designed to draw the reader in) and structure the story to follow up on the questions presented in that lede. They document everything, so that they can verify the accuracy of everything they present. You can do the same for your fiction.
This workbook serves as a full self-paced writing course, presenting theory on each aspect of the world/characters you are trying to create - and then offering step-by-step worksheets that allow you to apply what you just learned. The instructional material is designed to give you a basic foundation in creative writing craft so that you understand how to build an effective story using the information you add into the worksheets.
Working through the entire collected workbook will give you a comprehensive Story Bible detailing aspects of your plot and characters to give you a reference source for your world - and the expertise on how to use it.
The Master Collection gives you access to all five Story Like a Journalist volumes, for a total of over 100 worksheets. Get ready to take a deep dive into your story, its characters and its world. The journalistic planning strategies in the book take you from determining the best protagonist for your story to imbuing your work with meaning.
The book walks you through each of these processes:
Who? = Character - WHO are these people who've showed up demanding a place in your novel, anyway? You know they have a story to tell, and for some specific reason, you are the writer in the best position to tell it.
Approach uncovering character the same way a journalist approaches a profile piece.
What? = Premise -- WHAT is this story about? Premise define the heart of your story. You need a keystone to hold onto, so you don't get lost in all the things your story COULD be. Premise is your keystone, and it works like the legend for a road map.
Approach refining premise the same way a journalist approaches a news story.
When? and Where? = Setting - WHEN and WHERE the heck are your characters? They have to be somewhere, waiting for the story to start. And that place shouldn't be random. Setting makes the story specific, and allows readers to feel like your characters are real people, living real lives in a certain time and place. Approach exploring aspects of your setting the same way a journalist approaches making a documentary.
How? and Why? = Plot and Theme - A plot that doesn't build to a theme is hollow, no matter how much excitement you build into the on-page action, there's no substance so the story won't be memorable. A character contemplating a theme without the framework of a plot is drifting, no matter how much she has to say, there's nothing concrete to prove her points or to challenge them. Her ideas just slip away. But when you get HOW and WHY working together, you can build a pattern of events and meaning that will touch our emotions and maybe even change the way we think.