We Could Be Beautiful (Paperback)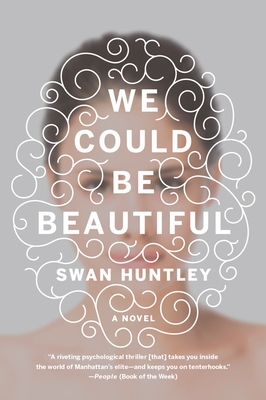 Description
---
Catherine West has spent her entire life surrounded by beautiful things. And yet, despite all this, she still feels empty. After two broken engagements and boyfriends who wanted only her money, she is worried that she'll never have a family of her own.

Then at an art opening Catherine meets William Stockton, a handsome banker who shares her impeccable taste and whose parents once moved in the same circles as Catherine's. But as William and Catherine grow closer, she begins to encounter strange signs. Her mother, now suffering lapses in memory, seems to hate William on sight. Is William lying about his past? And if so, is Catherine willing to sacrifice their beautiful life in order to find the truth?
About the Author
---
SWAN HUNTLEY earned her MFA from Columbia University. She's received fellowships from the MacDowell Colony and the Ragdale Foundation. She lives in California and Hawaii.
Praise For…
---
"Huntley is adept at deploying Catherine's good fortune as a fulcrum of suspense... Huntley deftly establishes Catherine's tendency to rationalize and repress... Lively... Huntley writes with wit and verve, excelling at economically hilarious descriptions... The book's strengths lie... in the zippy social satire, in the portrait of a dysfunctional family (Catherine's relationship with her sister turns out to be especially affecting) and, most of all, in Catherine's voice--strange and funny and engaging to the very end." 
—Jennifer DuBois, The New York Times Book Review
 
"Here's a thriller we can sink into. Deeply psychological and nuanced, Huntley's We Could Be Beautiful follows one wealthy Manhattan woman who has nearly everything. The one thing she lacks, however, is a relationship. That is, until her white knight comes along one evening. But it never quite works out that way, does it? (Not in a book like this, certainly.) Huntley's novel is a twisting, turning, secret-filled story that's worthy of your precious summer reading time."
—Meredith Turits, Elle
 
"A novel that is deeper than its heiress-meets-man-of-her-dreams setup. The reason: Huntley's uncanny ability to detect the fault lines in Manhattan's glitterati as if flaws in a precious diamond—and make us laugh about them."
—O Magazine
 
"A riveting psychological thriller, Huntley's debut takes you inside the world of Manhattan's elite—and keeps you on tenterhooks."
—People, "Book of the Week"
 
"A sparkling dark romance… Huntley strings you blissfully along (like a great con man)…right up until that epic twist."
—Redbook
 
"Quite the psychological thriller that keeps readers on edge wondering how far Catherine will go and how much she'll sacrifice for the truth… Brilliantly exposes the life of an affluent family and what greed, lies and wealth can do to them."
—Amanda Douville, New York Daily News
 
* "Posh Manhattanite Catherine West has everything but the family she's always wanted. But when she falls for the man of her supposed dreams, she unravels a web of deception that upends life as she knows it… Mesmerizing… As elegantly plotted as it is—and it is—Huntley's debut stands out not for its thrills but rather for her hawkish eye for social detail and razor-sharp wit. It is more than a classic psychological thriller: it is also a haunting—and weirdly moving—portrait of love and family among Manhattan's flailing upper crust. An intoxicating escape; as smart as it is fun."
—Kirkus (STARRED REVIEW)