Snakes! Guillotines! Electric Chairs!: My Adventures in the Alice Cooper Group (Paperback)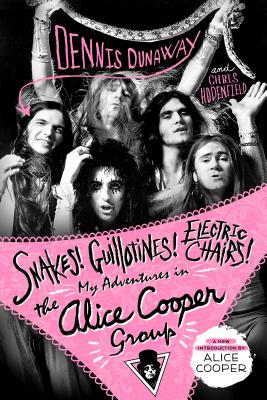 Description
---
A hair-raising backstage memoir of the Alice Cooper Group, from the bassist and co-songwriter, co-written by the journalist who first covered the band for Rolling Stone, with an all new introduction by Alice Cooper.

"Before the world heard of KISS, the New York Dolls, Marilyn Manson, or Ozzy Osbourne, there was Alice Cooper, the original shock-rock band." -Rock and Roll Hall of Fame
As teenagers in Phoenix, Dennis Dunaway, bassist and co-songwriter for the Alice Cooper group, and lead singer Vince Furnier (who would later change his name to Alice Cooper) formed a hard-knuckles band that played prisons, cowboy bars, and teens clubs. Their wild, impossible journey took them from Hollywood to the ferocious Detroit music scene, and along the way they discovered the utterly original performance style and look that would make them the stuff of legend.
Speaking out for the first time about his adventures in the Alice Cooper group, Dunaway reveals a band that was obsessed with topping themselves, with their increasingly outlandish shows and ever-blackening reputation. Dunaway takes readers into back rooms, behind brainstorming sessions, and into the most exclusive parties of the 1970s, revealing the talent, drama, and characters that drove two teenagers to create what would become America's highest-grossing act.
From struggling for recognition to topping the charts with a string of hits including "I'm Eighteen," "School's Out," and "No More Mr. Nice Guy," the Alice Cooper group was entertaining, outrageous, and one of a kind.
Snakes! Guillotines! Electric Chairs! is a riveting account of the band's creation in the '60s, their strange glory in the '70s, and the legendary characters they met along the way.
About the Author
---
Dennis Dunaway was the bass player, songwriter, and theatrical conceptionalist of Alice Cooper and was inducted into the Rock and Roll Hall of Fame in 2011. Their hit single "School's Out" was inducted into the Grammy Hall of Fame in 2015. Dennis continues writing songs, recording, and playing live concerts with Blue Coupe. Dennis lives with his wife, Cindy, in Connecticut. They have two daughters, Renee and Chelsea.

CHRIS HODENFIELD has written for Rolling Stone magazine, Sports Illustrated, and Playboy, among other publications. He is presently writing fiction.
Praise For…
---
"Dennis vividly details in the first person how the Alice cooperative of five endearingly misfit pioneering adolescents put the Woodstock generation to rest." —Huffington Post
"A visit to the magical, blood-spattered world of the Alice Cooper Group, courtesy of Dunaway, the band's bassist, co-songwriter and "theatrical conceptionalist."... the book is more than just an homage to his old friend; it's a love letter to an era... An affectionate, sharp-eyed memoir." —Kirkus Reviews
"I still consider Dennis Dunaway to be one of my best friends. Dennis is one of the few true surrealists that I've ever met….This book carries on in Dennis' own private surrealistic world." —Alice Cooper
"If you think you've heard all the Alice Cooper stories, think again...Though Alice was the iconic face of the band, Dunaway was the brains behind many of their best-known songs...It's safe to say that, without Dunaway, the group's now-legendary look and sound would have been vastly different. There might not even have been an Alice Cooper." —Village Voice
"A wonderfully detailed memoir" —Connecticut Post
"Dennis tells the story from the inside out with wit and wisdom and adds brilliantly to the Alice Cooper Group mythos. There may be many versions of this story, but Dennis' is one of the most colorful, insightful and entertaining!" —Bob Ezrin, record producer
"Dennis Dunaway's book brought me right back to those days in Laurel Canyon. So many times, people ask me 'what was it like in the 60's?' I give them a blank stare and say 'if you can remember it, you weren't there' or 'uh, I forget,' or 'it was great'…Well now I'll just tell them to read Dennis' book." —Robby Krieger, song-writer and guitarist for the Doors.
"The fact that it historically chronicles one of the greatest hard rock bands of all time is just icing on the cake" —Classic Rock Revisited
"For a fan of the Alice Cooper band, as I have been since my adolescence in the 1970s, Cooper bassist Dennis Dunaway's first-hand account of the group's humble beginnings, heady triumphs and arguably inevitable implosion is gripping stuff." —Michael J. Fox, New York Times bestselling author of A Funny Thing Happened on the Way to the Future
"Steve Martin once said 'Those French have a different word for everything.'--Dennis has a different view of everything, so he's the ideal chap to spend a night out with--and you have him for a whole book!!" —Ian Hunter
"A key player in the Alice Cooper sound, Dennis Dunaway propelled the band with his swirling-driving bass, and he now takes us backstage with an all-access pass to the Hall of Fame band that inspired us to make friends in the danger zone." —Greg Harris, President & CEO, Rock and Roll Hall of Fame + Museum
"From inside the inner circle of the Alice Cooper band, bass guitar wizard Dennis Dunaway gives his refreshingly unique perspective telling the bands amazing story. Dennis chronicles his journey in vivid detail from an early 1960's high school band called the "Earwigs" transforming into "Alice Cooper," then in the 1970's becoming the most notorious band on in the world. A must read for every Alice Cooper fan!" —Neal Smith, song-writer and drummer for Alice Cooper
"Lived it, lost it, read it and loved it to death!" —Michael Bruce, founding member, Alice Cooper Group
"A touching portrait. Poignant, funny, sad and most of all, true!" —Joe Greenberg Co-Manager of Alice Cooper
"The original Alice Cooper Band were one of the all-time greats in what I consider the golden era of classic rock, and helped pave the way for all the arena rock bands that followed in their wake. As a kid I spent countless hours listening to their records and staring at the pictures on the sleeves, pondering the menacing gang dressed up in glitter drag, in the pre-internet days when your favorite bands were still a mystery. Dennis Dunaway had a front row seat to all the craziness, and lucky for us, came out the other side with his memories intact." —Chris Shiflett, Foo Fighters
"Dennis Dunaway stands out as one of the most progressive bassist of the time. His unique sonic vision and absolute brotherhood connection to Glen, Michael, Alice and Neal created a raw, unpretentious, by the seat of your pants sound that captivated and inspired. And what is equally amazing is Dennis's absolutely clear and detailed recollection and articulation of the journey they took." —Richard McDonald, Vice President of the Fender Musical Corp.
"The multi-faceted autobiography, penned with former Rolling Stone staffer Chris Hodenfield, appeals not only to hard core Alice Cooper fans like myself, but to readers with a general interest in the "rock biography" genre, as well as those who enjoy immersing themselves in the twists and turns of a whole-hearted adventure and an enduring love story set primarily in the heady music scene of the 1960s and '70s." —The Newcastle Herald (Australia)
"An informative, entertaining, and surprisingly cheerful work. The pacing is fast, the chronology is tight, and the balance of personal, professional, and cultural details is spot-on. ... Dunaway's update tone and flair for storytelling lift this work a step above the average musical memoir. Recommended for music historians, children of the 1970s, and, of course, Cooper fans." —Library Journal