Better Together: A Novel (Hardcover)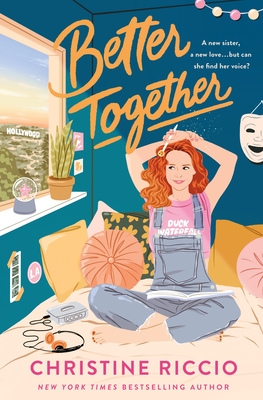 Description
---
The Holiday meets The Parent Trap in this clever comedic whirlwind brimming with romance, a healthy dose of family drama, and just a touch of magic.

Estranged sisters Jamie and Siri are quarter-life crisis-ing: hard. Adulthood is staring them both in the face and their career aspirations suddenly feel… way out of reach? After thirteen years apart living on opposite coasts, fate brings them back together when they wind up at the same nature retreat in Colorado.

Desperate for a change of pace, the sisters decide to go home in each other's stead and see how the other half lives. It doesn't take long for them to realize: swapping lives might be more than they bargained for. Turns out, pretending to be a sister you hardly know can really complicate your love life.

Navigating their new surroundings proves to be a precarious task, but what better way to learn about yourself than by trying to live as someone else?
About the Author
---
Christine Riccio is the New York Times bestselling author of Again, But Better. She's been on a quest to encourage more humans to read since the third grade. Her YouTube channel PolandbananasBOOKS has over 410,000 book-loving subscribers. She makes comedic book reviews, vlogs, sketches, and writing videos chronicling the creation of her own novels. She's also one of the three YouTubers behind BOOKSPLOSION—YouTube's longest-running book club. She graduated from Boston University in 2012 with a degree in Film and TV and now lives in Los Angeles, CA.
Praise For…
---
"Thoughtful and entertaining." —Kirkus

"A unique coming-of-age story....a refreshing perspective on two women looking at the lives they think were set before them and realizing the opportunities that await them if they could just take a step away from the four walls they were raised in... A wholly original story of sisterhood." —Hypable

"Compelling... Both realistic fiction and romance readers will enjoy this updated Parent Trap." -School Library Journal

Praise for Again, But Better

"This funny, poignant debut by a popular BookTuber is full of life and honest reflection, and it's packed with adventures that will charm readers, whether they've traveled abroad or not. Give this to anyone who enjoys tales of self-discovery and first love." —Booklist

"Half wish fulfilment, half cautionary tale and full of charm." —Kirkus

"Again, But Better is a fantastic debut novel! Entertaining, clever and impossible to put down." —Colleen Hoover, New York Times bestselling author

"A story of finding love and finding yourself. Prepare to be completely charmed." —Christina Lauren, New York Times bestselling authors of Autoboyography