Creativity and Making in Early Childhood: Challenging Practitioner Perspectives (Paperback)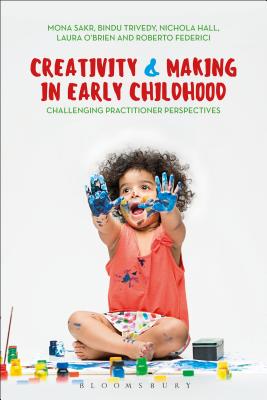 Description
---
Creativity and Making in Early Childhood brings together practice and research insights on creativity, to offer new perspectives on what creativity is, how it manifests in early childhood education and what can be done to support it.
Each chapter includes practitioners' own experiences and looks within these observations and reflections to highlight key questions and challenges. Insights and perspectives are drawn from research in order to engage deeply with these challenges and to develop future practice in early childhood education. Particular focus is on creativity as physical 'making' processes. Topics covered include:
- children's developing identities
- sharing and social interactions
- how time, choice and physical environments influence young children's creativity
- instructions, resourcing and expectations of creativity in the early childhood setting Practical learning features guiding students through the book include: research spotlight sections introducing readers to key pieces of research, questions to aid reflection on experiences in relation to relevant theory, summaries and tasks for the reader designed to deepen thinking. This text is an excellent resource for undergraduate students in early childhood and education, as well as postgraduate students and practitioners who have returned to study.
About the Author
---
Mona Sakr is Lecturer in Education and Early Childhood at Middlesex University, UK. She is author of Digital Technologies in Early Childhood Art (Bloomsbury, 2016). Roberto Federici is an Early Years Practitioner at Mount Carmel Kindergarten, Hertfordshire, UK. Nichola Hall is an Early Years Practitioner at Merchant Taylors' Prep Nursery, Hertfordshire, UK. Bindu Trivedy is an Early Years Practitioner at Rowland Hill Children's Centre and Nursery, London, UK. Laura O'Brien is an Early Years Practitioner at St Albert The Great RC Primary School, Hertfordshire, UK.