Beowulf: A Dual-Language Edition (Paperback)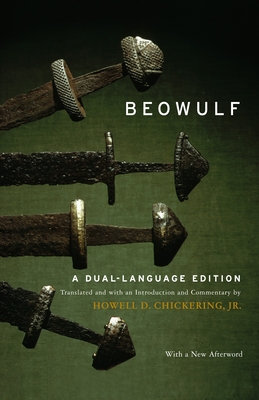 $15.95
Not currently on the shelf, but we can order it, to pick up in store or have shipped from our remote warehouse.
Description
---
The first major poem in English literature, Beowulf tells the story of the life and death of the legendary hero Beowulf in his three great battles with supernatural monsters. The ideal Anglo-Saxon warrior-aristocrat, Beowulf is an example of the heroic spirit at its finest.

Leading Beowulf scholar Howell D. Chickering, Jr.'s, fresh and lively translation, featuring the Old English on facing pages, allows the reader to encounter Beowulf as poetry. This edition incorporates recent scholarship and provides historical and literary context for the modern reader. It includes the following:

an introduction
a guide to reading aloud
a chart of royal genealogies
notes on the background of the poem
critical commentary
glosses on the eight most famous passages, for the student who wishes to translate from the original
an extensive bibliography
About the Author
---
Howell D. Chickering, Jr., is the G. Armour Craig Professor of Language and Literature at Amherst College. His critical essays, chiefly on medieval English poetry, have appeared in such journals as The Chaucer Review, Journal of English and Germanic Philology, Journal of Medieval and Renaissance Studies, The Kenyon Review, Philological Quarterly, PMLA, Speculum, and Viator.
Praise For…
---
"It is everywhere vigorous. . . . Chickering enjoys the poem immensely, and this attractive attitude shines everywhere. . . . This book is valuable for its extended literary appreciations and its facing text." –Library Journal

"A fine book. . . . The essays on poetics, social history, and structure and the notes to specific passages survey the important scholarship." –Choice