The Liberty Amendments (Paperback)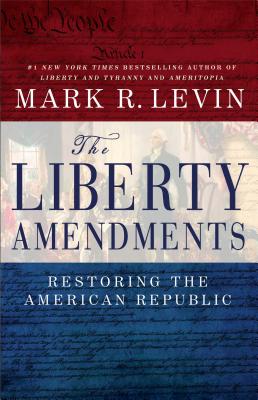 $16.00
Not currently on the shelf, but we can order it, to pick up in store or have shipped from our remote warehouse.
Description
---
The long-awaited new book on how to fix our broken government by the #1 New York Times bestselling author of Liberty and Tyranny and Ameritopia.

In his #1 bestsellers Liberty and Tyranny and Ameritopia, Mark R. Levin has all but predicted the current assault on our individual liberties, state sovereignty, and the social compact—the inevitable result of an all-powerful, ubiquitous central government. Fortunately, such dire circumstances were anticipated by the Founding Fathers, who gave us the means to amend the Constitution in order to preserve our rights and pre­vent governmental behemoths. Here, Levin turns to the Constitution and its Framers to lay forth eleven specific prescriptions, thoughtfully con­structed within the Framers' design, for restoring the American Republic. His proposals are pure common sense, ideas shared by many—such as term limits for members of Congress and Supreme Court justices and lim­its on federal taxing and spending—that draw on the wisdom of James Madison, Benjamin Franklin, Thomas Jefferson, and others. With The Liberty Amendments, the American people can take the first step toward reclaiming what belongs to them.
About the Author
---
Mark R. Levin, nationally syndicated talk-radio host, host of LevinTV, chairman of Landmark Legal Foundation, and the host of the FOX News show Life, Liberty, & Levin, is the author of six consecutive #1 New York Times bestsellers: Liberty and Tyranny, Plunder and Deceit, Rediscovering Americanism, Ameritopia, The Liberty Amendments, and Unfreedom of the Press. Liberty and Tyranny spent three months at #1 and sold more than 1.5 million copies. His books Men in Black and Rescuing Sprite were also New York Times bestsellers. Levin is an inductee of the National Radio Hall of Fame and was a top adviser to several members of President Ronald Reagan's cabinet. He holds a BA from Temple University and a JD from Temple University Law School.
Praise For…
---
"[Mark Levin] has done an incredible job of drafting these proposed amendments aimed at re-establishing the balance between the federal and state governments...let our national conversation begin, and let us thank Mark Levin for initiating it."
— David Limbaugh, New York Times bestselling author of The Great Destroyer
"Mark Levin's
The Liberty Amendments
is the revolutionary blueprint millions of Americans have been waiting for...carefully and powerfully written."
— Jeffrey Lord, The American Spectator
"Mark Levin's book is a serious work that can serve as an action plan for curing what ails us."
— Cal Thomas, The Washington Examiner