How to Be a Scientist (Hardcover)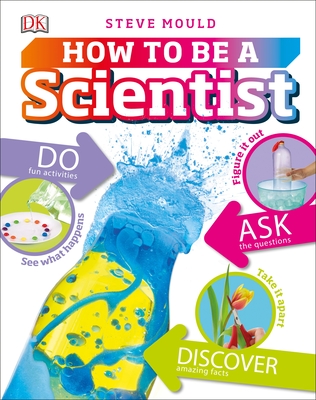 Description
---
This bold and playful approach to science with more than 40 fun questions, experiments, games, and real-life scenarios will encourage kids to discover the amazing science all around them.
Kids will learn how to think like a scientist and look at the world in a brand-new way with science comedian Steve Mould's How to be a Scientist. More than 40 simple activities have undetermined answers, encouraging curious young readers to find new ways to test ideas. Questions, games, and real-life scenarios make scientific concepts fun and relevant. The stories of the great scientists and their discoveries--and failures--are told in an entertaining way to provide even further inspiration for budding scientists.
Supporting STEM and STEAM education initiatives, How to be a Scientist will inspire kids to ask questions, do activities, think creatively, and discover amazing facts.
About the Author
---
Steve Mould is a science expert and comedian with a physics degree from the University of Oxford. He has a YouTube channel with more than 175,000 subscribers, and his videos regularly achieve hits in the hundreds of thousands. One of these videos (about "self-siphoning beads") went viral worldwide, gaining nearly 2 million hits and being mentioned in The New York Times and on the BBC. Scientists later discovered why the beads performed in the mysterious way they did and dubbed it "The Mould Effect." Steve also hosts a radio show on BBC Radio 4 and is part of the live comedy/science trio Festival of the Spoken Nerd. Steve's second book for kids, The Bacteria Book: The Big World of Really Tiny Microbes, will be out in May 2018.