Let's Go Crazy: Prince and the Making of Purple Rain (Paperback)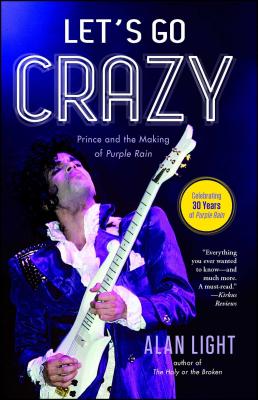 List Price: $17.00
Our Price: $16.00
(Save: $1.00 6%)
Description
---
Alan Light, former writer for Rolling Stone, editor-in-chief of Vibe and Spin magazines, and author of The Holy or the Broken, "gets inside Prince's mind palace in Let's Go Crazy—a history of the making of his historic, semi-autobiographical musical masterwork, Purple Rain" (Vanity Fair).

Purple Rain is a song, an album, and a film—widely considered to be among the most important albums in music history and often named the best soundtrack of all time. It sold over a million copies in its first week of release in 1984 and blasted to #1 on the charts, where it would remain for a full six months and eventually sell over 20 million copies worldwide. It spun off three huge hit singles, won Grammys and an Oscar, and took Prince from pop star to legend—the first artist ever simultaneously to have the #1 album, single, and movie in the country.

In Let's Go Crazy, acclaimed music journalist Alan Light takes a timely look at the making and incredible popularizing of this once seemingly impossible project. With impeccable research and in-depth interviews with people who witnessed and participated in Prince's audacious vision becoming a reality, Light reveals how a rising but not yet established artist from the Midwest was able not only to get Purple Rain made, but deliver on his promise to conquer the world.

"A must-read for the Prince die-hards who have remained devoted through the musical meanderings of the last three decades" (Kirkus Reviews), Let's Go Crazy examines how the masterpiece that blurred R&B, pop, dance, and rock sounds altered the recording landscape and became an enduring touchstone for successive generations of fans.
About the Author
---
Alan Light has been one of America's leading music journalists for the past twenty years. He was a writer at Rolling Stone, founding music editor and editor-in-chief of Vibe, and editor-in-chief of Spin magazine. He has been a contributor to The New Yorker, GQ, Entertainment Weekly, Elle, and Mother Jones. He is the author of The Skills to Pay the Bills, an oral history of the Beastie Boys; The Holy or the Broken: Leonard Cohen, Jeff Buckley, and the Unlikely Ascent of "Hallelujah"; and cowriter of the New York Times bestselling memoir by Gregg Allman, My Cross to Bear.
Praise For…
---
"Everything you ever wanted to know about the making of the popular Prince movie—and much more.Beyond the minutiae of moviemaking and who was sleeping with whom, the book is particularly incisive in providing context, showing how video technology and black crossover artists were changing the marketplace. A few of the revelations are real howlers...But mainly, Light commemorates an anniversary that might otherwise have passed without much notice. A must-read for the Prince die-hards who have remained devoted through the musical meanderings of the last three decades."
— Kirkus Reviews

"Drawing on interviews with musicians and filmmakers involved in the making of the title song, the album, and the movie, Light provides not only a portrait of a musician compelled to share his musical vision, no matter the cost, but also a cultural history of the times in which the film and music debuted."
— Publishers Weekly

"Alan Light gets inside Prince's mind palace in Let's Go Crazy—a history of the making of his historic, semi-autobiographical musical masterwork, Purple Rain."
— Vanity Fair

"In all, Light's 300-page reassessment of Prince's magnum opus is a revealing study in cinema and sound, not to mention a fascinating look at the dynamic young performer behind the songs (and image)."
— Cleveland Music Examiner

"Light's behind-the-scenes look at a rock classic offers an enticing glimpse into its charming yet enigmatic creator."
— Booklist

Praise for The Holy or the Broken

"Thoughtful and illuminating... [Mr. Light] is a fine companion for this journey through one song's changing fortunes."
— The New York Times

"A combination mystery tale, detective story, pop critique and sacred psalm of its own."
— The Daily News

"Brilliantly revelatory... A masterful work of critical journalism."
— Kirkus Reviews (starred review)

"A deeply researched mixture of critical analysis and cultural archaeology."
— Los Angeles Times

"Keeps the pages turning... A well-constructed, consistently enlightening book, which should have Cohen devotees and music fans alike seeking out their favorite version of the song."
— The Boston Globe

"Fresh and compelling."
— Entertainment Weekly

"Reverentially details every stage in the [song's] evolution—and along the way, he reveals the compelling stories behind some of its most iconic interpretations."
— The Atlantic

"Absorbing…Eloquent... Light expertly unpacks the song's long, strange journey to ubiquity."
— The Village Voice

"A must for music fans."
— Booklist (starred review)

"Captures the essence of a song and of the culture it was reflecting... It's just so well done."
— Christian Science Monitor

"[A] charming ode to a pop culture phenomenon."
— Publishers Weekly