Global Issues Beyond Sovereignty (Hardcover)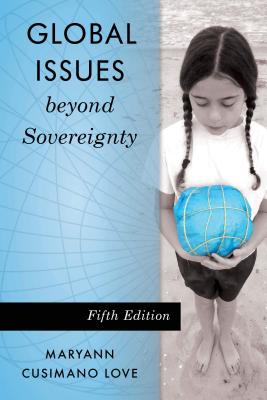 Email or call for price.
NOT AVAILABLE PLEASE DON'T ORDER
Description
---
Other global issues books are a rather eclectic mash up of topics, headlines du jour, with an "and now this " organizational scheme. The "hot" topics may have cooled by press time, and the presentation to students is disjointed, not clear. The approach is often a "scare 'em and leave 'em" presentation of a global horror show of problems, without clear arguments about the connections among the issues, or integrated discussions of solutions. In contrast, Global Issues Beyond Sovereignty provides a thesis and a common narrative throughout the "issue" chapters. The range of responses to manage global issues are compared and discussed throughout. Global problems move at internet speed; governments do not move so quickly. This creates gaps in what citizens expect the state to do, and what countries have the capacities to do. This paradox is a problem not only for weak or failing states; even the strongest states in the system struggle in how to effectively respond to global issues, from cybersecurity to environmental toxins. States cannot solve or manage trans-sovereign issues alone. The power of the private sector is growing (both legal and illegal, for profit and non-profit), while state power is flat or in some places declining. While private sector actors have means to impact transnational issues, they do not have a public mandate to do so. Countries increasingly must learn how to play well with others; this is easier said than done. Attempts to manage global issues flow through three channels: public sector responses, private sector responses, and mixed public-private partnerships. All three channels are explored throughout the book, uniting the issue chapters in a common discussion of challenges and responses. The conclusion presents lessons learned for theory and practice from managing global issues.
About the Author
---
Dr. Maryann Cusimano Love is an Associate Professor of International Relations in the Politics Department of The Catholic University of America in Washington, DC. She teaches graduate and undergraduate courses on International Relations and U.S. foreign policy at Catholic University, the Pentagon, and the Foreign Service Institute. She serves on the Board of the Arms Control Association. She serves on the U.S. Catholic Bishops' International Justice and Peace Committee, where she advises the bishops on international affairs and U.S. foreign policy, and engages in diplomacy at the United Nations and with the U.S. government. She serves on the Advisory Board of the Catholic Peacebuilding Network with Notre Dame University's Kroc Institute of Peace, a network of practitioners and academics from around the world that works to enhance the study and practice of peacebuilding. She is an international affairs editor at America magazine. She has served on the Department of State's Core Group on Religion and Foreign Policy, charged with making recommendations to the Secretary of State and the Federal Advisory Commission on how the US government can better engage with civil society and religious actors in foreign policy. She served on the Board of Jesuit Refugee Services, an international refugee relief and advocacy group active in over 60 countries. She served as a Fellow at the U.S. Commission on International Religious Freedom, a Pew Fellow of International Affairs, and a Fellow at the U.S. Naval Academy Stockdale Center for Ethical Leadership. Dr. Maryann Cusimano Love lives on the Chesapeake Bay outside of Washington, DC, with her husband Dr. Richard Love, Professor, Peace and Stability Operations, United States Army War College, and with their three children, Maria, Ricky, and Ava, who inspire her New York Times best-selling children's books, You Are My I Love You, You Are My Miracle, You Are My Wish, You Are My Wonders, Holiducks, Alphaducks, and Sleep, Baby, Sleep. Dr. Love holds a Ph.D. degree from Johns Hopkins University, an M.A. degree from the University of Texas at Austin, and a B.A. degree from St. Joseph's University in Philadelpha, PA.