Hope in Hell: Inside the World of Doctors Without Borders (Paperback)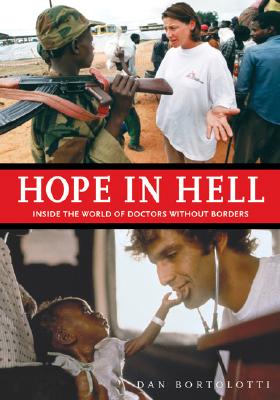 Email or call for price.
NOT AVAILABLE PLEASE DON'T ORDER
Description
---
A fascinating and harrowing account of the men and women who struggle to improve the lives of people in desperate need.
Doctors Without Borders (also known as M decins Sans Fronti res, or MSF) is arguably the best known humanitarian organization in the world. These professional men and women deliver emergency aid to victims of armed conflict, epidemics and natural disasters as well as to many others who lack reliable health care. Each year, more than 2,500 volunteer doctors, nurses and other professionals join locally hired staff to provide medical aid and health care in more than 80 countries.
At the forefront of this organization and its work are the volunteer doctors and other health professionals who risk their lives to perform surgery, establish or rehabilitate hospitals and clinics, run nutrition and sanitation programs, and train local medical personnel. This book follows these men and women on location as they risk their own health, well-being and lives to treat patients in desperate need.
These engaging true stories with dramatic color photographs examine the lives of individual volunteer medical professionals from around the world who:
Perform emergency surgery in the war-torn regions of Africa and Asia
Treat the homeless in the streets of Europe
Understand cultural customs and societal differences that affect health care
Witness and report genocidal atrocities.
This new paperback edition is updated to include events that occurred following publication of the hardcover.
Hope in Hell chronicles the raucous founding of Doctors Without Borders (MSF) and the awarding of the Nobel Peace Prize to the organization. If there is a horrific event, MSF will be there. This book tells why and how.
About the Author
---
Dan Bortolotti is a journalist whose work appears regularly in books and magazines across North America.