Class Notes: Posing as Politics and Other Thoughts on the American Scene (Paperback)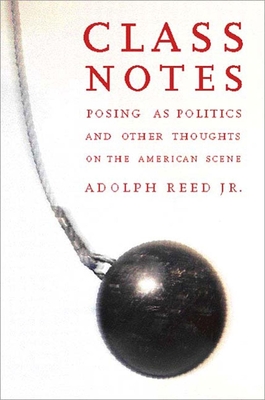 $16.95
Not currently on the shelf, but we can order it, to pick up in store or have shipped from our remote warehouse.
Description
---
The classic and deeply prescient collection that explores the multifaceted nature of race, class, and identity in America, from one of our most insightful and iconoclastic intellectuals
Hailed by Publishers Weekly for its "forceful" and "bracing opinions on race and politics," Class Notes is a collection of critic Adolph Reed Jr.'s clearest thinking on matters of race, class, and other American dilemmas. With barbed wit, Reed takes aim against the solipsistic, individualistic approaches of identity politics, and in favor of class-based political interpretation and action. Reed leaves no topic untouched, from the myth that there exists a particular kind of "Black Anti-Semitism," to the grift perpetuated by commentators who claim to speak for groups solely based on their identity categories.
Adolph Reed Jr. remains one of our most controversial and necessary interpreters of American politics. These essays illustrate why Reed is "the smartest person of any race, class, or gender writing on race, class, and gender" (Katha Pollitt). Class Notes is a classic text that signposts a path for the Left--out of essentialist gridlock and into meaningful, goal-oriented mass politics.
About the Author
---
Adolph Reed Jr. is a professor of political science at the University of Pennsylvania. He is the editor of Race, Politics, and Culture and Without Justice for All and the author of The Jesse Jackson Phenomenon, W.E.B. Du Bois and American Political Thought, and Stirrings in the Jug.