Blackwater: The Rise of the World's Most Powerful Mercenary Army (Paperback)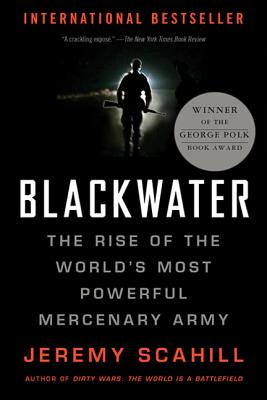 $19.99
Not currently on the shelf, but we can order it, to pick up in store or have shipped from our remote warehouse.
Description
---
The groundbreaking bestselling expose of the shadowy mercenary army that perpetrated horrific war crimes in America's name. On September 16, 2007, machine gun fire erupted in Baghdad's Nisour Square, leaving seventeen Iraqi civilians dead, among them women and children. The shooting spree, labeled "Baghdad's Bloody Sunday," was neither the work of Iraqi insurgents nor U.S. soldiers. The shooters were private forces, subcontractors working for the secretive mercenary company, Blackwater Worldwide, led by Erik Prince

Award-winning journalist Jeremy Scahill takes us from the bloodied streets of Iraq to hurricane-ravaged New Orleans to the chambers of power in Washington, to reveal the frightening new face of the U.S. military machine, and what happens when you outsource war."A crackling expose" -- New York Times Book Review"[Scahill] is a one-man truth squad" -- Bill Moyers"[An] utterly gripping and explosive story" -- Naomi Klein, The Guardian
About the Author
---
Jeremy Scahill is an investigative reporter, war correspondent, and author of the international bestsellers Blackwater: The Rise of the World's Most Powerful Mercenary Army and Dirty Wars: The World is a Battlefield. He has reported from Afghanistan, Iraq, Somalia, Yemen, Nigeria, the former Yugoslavia, and elsewhere across the globe. He is a co-founder of The Intercept and has served as the National Security Correspondent for the Nation magazine and Democracy Now! Scahill is a Puffin Foundation Writing Fellow at The Nation Institute and was twice awarded the prestigious George Polk Award. He is a producer and writer of the award-winning film Dirty Wars, which premiered at the 2013 Sundance Film Festival and was nominated for an Academy Award.