Jonathan Schell: The Fate of the Earth, The Abolition, The Unconquerable World (LOA#329) (Hardcover)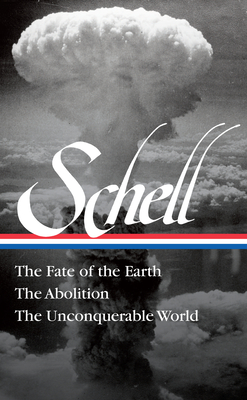 $40.00

Not currently on the shelf, but we can order it, to pick up in store or have shipped from our remote warehouse.
Description
---
75 years after Hiroshima and Nagasaki, a collected edition of three classic accounts of our nuclear predicament and the way forward to a peaceful world, by the Rachel Carson of the antiwar movement.

Brave, eloquent, and controversial, these classic works by Jonathan Schell illuminate the nuclear threat to our civilization, and envision a way forward to peace. In The Fate of the Earth--an international bestseller that inspired the nuclear freeze movement--Schell distills the best available scientific and technical information to imagine the apocalyptic aftereffects of nuclear war. Dramatizing the stakes involved in abstract discussions of military strategy, when first published it galvanized public consciousness and changed the terms of the debate over nuclear arms. The Abolition extends this work to argue--against a complacent acceptance of "the stability of the nuclear world" and conventional theories of deterrence--that pathways to disarmament exist, and that the ultimate elimination of nuclear weapons is an achievable goal. The volume concludes with what is arguably Schell's masterwork, The Unconquerable World: Power, Nonviolence, and the Will of the People. A sweeping, surprisingly hopeful historical analysis of the changing nature of warfare, both nuclear and conventional, through the end of the twentieth century, it argues that war has become less and less useful as a means for achieving political ends, culminating in the mutually assured destruction of the Cold War. Describing the world-historical successes of people's revolutions--the Gandhian defeat of British imperialism in India and the peaceful dissolution of the Soviet Union, among others--Schell envisions new political and social foundations on which to sustain a lasting peace.
About the Author
---
Jonathan Schell (1943-2014) wrote two books based on his reporting in Vietnam, The Village of Ben Suc (1967) and The Military Half: An Account of the Destruction of Quang Ngai and Quang Tin (1968), that made him one of the leading antiwar witnesses of the era. The Fate of the Earth (1982), first published in The New Yorker where he was a longtime staff writer, became an international bestseller and galvanized the nuclear freeze movement. Later a columnist for Newsday and The Nation, he taught at NYU, Princeton, Wesleyan, Yale, and other universities. At the time of his death in 2014, in Brooklyn, he was at work on a book about climate change.

Martin J. Sherwin is an author and historian specializing in the development of atomic weapons and nuclear policy. With Kai Bird, he co-wrote American Prometheus: The Triumph and Tragedy of J. Robert Oppenheimer, winner of the Pulitzer Prize for biography in 2006.
Praise For…
---
"It was during the disorienting final sprint of this arms race that Jonathan Schell produced two of the only enduring books ever written about nuclear weapons. A new edition from the Library of America testifies to their status as classics in a genre full of out-of-print artifacts from long-forgotten and acronym-laden moments in Cold War time. . . . The Fate of the Earth and The Abolition alone have lasted." —The New Republic