Censored 2018: Press Freedoms in a "Post-Truth" Society-The Top Censored Stories and Media Analysis of 2016-2017 (Paperback)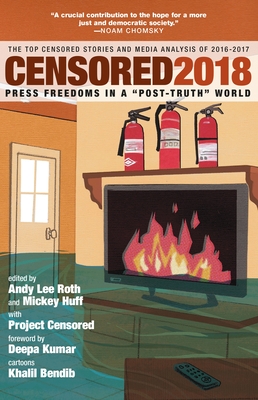 Description
---
Did you know that over a thousand communities in the US are experiencing lead contamination at quadruple the rates found in Flint, Michigan? Or that the US Army has accumulated $6.5 trillion in expenditures that cannot be accounted for? What about the racially biased software used by judges to predict future crimes, or the fossil fuel industry's influence over environmental research?

Haven't heard the news? Neither did the rest of the world. That's because these and countless other news items are suppressed or ignored by our nation's "free press" every day. For the past forty-two years, Project Censored has been unearthing the buried stories that corporate media deem unfit to print—and debunking the "fake news" governments and corporations use to consolidate their power—to promote well-informed citizen action and critical media literacy.

This year's Project Censored yearbook features:

• "The New American Authoritarianism" by Nolan Higdon and Nicholas L. Baham III

• "Trump Universe," a graphic chapter by Adam Bessie and Peter Glanting

• "Defamation as Censorship in the Social-Media Era" by Elizabeth Blakey

• "Still Manufacturing Consent" by Edward S. Herman

• "Breaking Through Power" by Ralph Nader

Plus Junk Food News and News Abuse and Media Democracy in Action.

In a time of "post-truth" fictions and rampant propaganda, Project Censored is on the case, holding the corporate media to account for its misleading spins, convenient lies, and outright censorship.
About the Author
---
MICKEY HUFF is director of Project Censored and serves on the board of the Media Freedom Foundation. He is currently a professor of social science and history at Diablo Valley College in the San Francisco Bay Area, where he is co-chair of the history department. Huff is the co-host, with former Project Censored director Dr. Peter Phillips, of The Project Censored Show, a weekly syndicated public affairs program that originates from KPFA Pacifica Radio in Berkeley, California. ANDY LEE ROTH is the associate director of Project Censored. He earned a PhD in Sociology at the University of California-Los Angeles and a BA in Sociology and Anthropology at Haverford College. He teaches sociology at Pomona College and serves on the boards of the Media Freedom Foundation and the Claremont Wildlands Conservancy.
Praise For…
---
"A crucial contribution to the hope for a more just and democratic society." —Noam Chomsky

"Project Censored is a national treasure . . . This is a brilliant, startling, and informative book that every young person, adult, student, and concerned citizen should read." —Henry A. Giroux, author of America At War with Itself

"Project Censored rescues the most important stories you should have read but probably never saw from oblivion." —Chris Hedges, bestselling author of War Is a Force That Gives Us Meaning and Wages of Rebellion

"[Censored] should be affixed to the bulletin boards in every newsroom in America. And, perhaps, read aloud to a few publishers and television executives." –Ralph Nader

"Whereas the mainstream media poke and peck at noteworthy events at single points in time, often devoid of historical context or analysis, Project Censored seeks to clarify understanding of real world issues and focus on what's important. Context is key, and many of its 'top censored' stories highlight deeply entrenched policy issues that require more explanation than a simple sound bite can provide." –San Francisco Bay Guardian