Forbidden Memory: Tibet during the Cultural Revolution (Hardcover)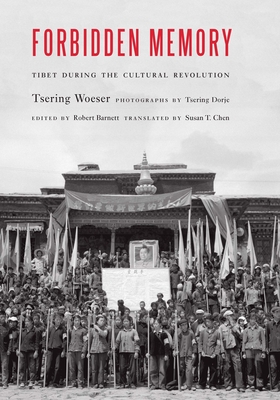 $39.95

Not currently on the shelf, but we can order it, to pick up in store or have shipped from our remote warehouse.
Description
---
Access the glossary of Tibetan terms.
Access the glossary of Chinese and English terms.
Access the Index.   When Red Guards arrived in Tibet in 1966, intent on creating a classless society, they unleashed a decade of revolutionary violence, political rallies, and factional warfare marked by the ransacking of temples, the destruction of religious artifacts, the burning of books, and the public humiliation of Tibet's remaining lamas and scholars. Within Tibet, discussion of those events has long been banned, and no visual records of this history were known to have survived.

In Forbidden Memory the leading Tibetan writer Tsering Woeser presents three hundred previously unseen photographs taken by her father, then an officer in the People's Liberation Army, that show for the first time the frenzy and violence of the Cultural Revolution in Tibet. Found only after his death, Woeser's annotations and reflections on the photographs, edited and introduced by the Tibet historian Robert Barnett, are based on scores of interviews she conducted privately in Tibet with survivors. Her book explores the motives and thinking of those who participated in the extraordinary rituals of public degradation and destruction that took place, carried out by Tibetans as much as Chinese on the former leaders of their culture.

Heartbreaking and revelatory, Forbidden Memory offers a personal, literary discussion of the nature of memory, violence, and responsibility, while giving insight into the condition of a people whose violently truncated history they are still unable to discuss today.
About the Author
---
Tsering Woeser is a poet, essayist, and blogger and one of the most prominent voices of the Tibetan independence movement. Two of her books have been published in English, Tibet on Fire: Self-Immolations against Chinese Rule and Voices from Tibet: Selected Essays and Reportage. Woeser has received the Prince Claus Award and the U.S. Department of State's International Women of Courage Award. She lives under close surveillance in Beijing.

Robert Barnett is an associate researcher at the Lau Institute of Chinese Studies at King's College, London, and a visiting scholar at Pembroke College, Cambridge. 

Susan T. Chen is a longtime collaborator with Tsering Woeser and translator of her work. She received her PhD in contemporary Tibetan culture from Emory University and is visiting assistant professor of history at Wingate University in North Carolina.
Praise For…
---
"[Forbidden Memory is] one of the most important books on Tibet during the final years of the Mao era. . . . This new edition, translated fluidly by Susan T. Chen, comes with an elegantly crafted, informative yet concise editor's introduction by Robert Barnett, a leading scholar of and public commentator on contemporary Tibet. . . . With yet another grand experiment spiraling into tragedy, it is valuable to have accounts like these that help us understand how a notable precursor imploded."—Jeffrey Wasserstrom, Wall Street Journal

"Forbidden Memory is a beautiful book as well as an important contribution to the historiography of Tibet."—Economist

"In lucid, engaging prose interspersed with her own insights, Woeser highlights how the Cultural Revolution shaped the contours of Tibet's negotiation with communist China. Her account is a powerful, nuanced argument against the popular perception that Tibetans strongly resisted Beijing's secularisation and sinicising policies."—Ajay Singh, South China Morning Post

"Forbidden Memory is an extraordinary and unique record of events in Tibet in the 1960s, when Tibetan intellectuals, lamas, and officials were publicly humiliated by Communist Party activists and their supporters, and is an account of the disastrous push for communalization that followed. Woeser's thoughtful and nuanced reflections on her interviews with Tibetans and Chinese involved in those events should be read by anyone seeking to fathom the thinking, motives, and in some cases—acute regrets—of former participants in extreme political violence and mob justice."—Tsering Shakya, Canada Research Chair in Religion and Contemporary Society in Asia, University of British Columbia and author of The Dragon in the Land of Snows: A History of Modern Tibet Since 1947

"Through her books, poetry, and blogs, Tsering Woeser has been for many years one of the world's most reliable and eloquent sources of information about Tibet. Now it turns out that her father, Tsering Dorje, an officer in the Peoples' Liberation Army who died in 1991, had left a hidden treasure—a cache of rare photographs of the Cultural Revolution in Tibet. Realizing that these photographs document events from the 1960s that the Chinese Communist Party has tried to obliterate from recorded history, Woeser has used them to start to fill in the blanks. They are all the more precious as presented in this volume with the expert commentary of Tsering Woeser and the leading Tibet scholar Robert Barnett."—Barbara Demick, author of Nothing to Envy: Ordinary Lives in North Korea and Eat the Buddha: Life and Death in a Tibetan Town

"Tsering Woeser has long been among the most prominent, thoughtful, and courageous of Tibetan public intellectuals and independent voices within China. Now, thanks to the efforts of Robert Barnett and Susan Chen, her groundbreaking work on the Cultural Revolution in Tibet, Forbidden Memory, has been made available to an English-speaking audience. Featuring remarkable photographs taken by her father, and based, in part, on extensive interviews with participants and witnesses, Forbidden Memory not only chronicles the events of the Cultural Revolution and documents the abuses committed during the campaign against Tibetans and their heritage. It should be required reading for anyone interested in understanding how the memory of the violence of the Maoist period, rarely voiced in public, continues to hamper the state's efforts to integrate Tibetans and other ethnic minorities into the modern Chinese nation."—Benno Weiner, associate professor of Chinese history at Carnegie Mellon University and author of The Chinese Revolution on the Tibetan Frontier.