William Walker's Wars: How One Man's Private American Army Tried to Conquer Mexico, Nicaragua, and Honduras (Hardcover)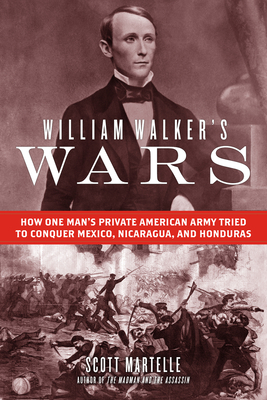 $26.99
Email or call for price.
Description
---
In the decade before the onset of the Civil War, groups of Americans engaged in a series of longshot—and illegal—forays into Mexico, Cuba, and other Central American countries in hopes of taking them over. These efforts became known as filibustering, and their goal was to seize territory to create new independent fiefdoms, which would ultimately be annexed by the still-growing United States. Most failed miserably.

William Walker was the outlier. Short, slender, and soft-spoken with no military background—he trained as a doctor before becoming a lawyer and then a newspaper editor—Walker was an unlikely leader of rough-hewn men and adventurers. But in 1856 he managed to install himself as president of Nicaragua. Neighboring governments saw Walker as a risk to the region and worked together to drive him out—efforts aided, incongruously, by the United States' original tycoon, Cornelius Vanderbilt.

William Walker's Wars is a story of greedy dreams and ambitions, the fate of nations and personal fortunes, and the dark side of Manifest Destiny, for among Walker's many goals was to build his own empire based on slavery. This little-remembered story from US history is a cautionary tale for all who dream of empire.
About the Author
---
Scott Martelle, an editorial writer for the Los Angeles Times, is the author of The Madman and the Assassin, The Admiral and the Ambassador, Blood Passion, Detroit: A Biography, and The Fear Within.
 
Praise For…
---
"Scott Martelle has written a marvelous book that uncovers a little-known and dark corner of American history, when men like William Walker invaded sovereign countries to grab land and expand slavery. In this well-researched tale, Martelle exposes the deep roots of American imperialism and how one arrogant man, convinced of his superiority and bluster, wreaked havoc on Central America." —Frances Dinkelspiel, author of Towers of Gold and Tangled Vines

"William Walker was the ultimate illegal immigrant: a US citizen who wanted to be emperor of Latin America—and actually seized control of Nicaragua, causing an international crisis. Scott Martelle's page-turning account draws on thorough research to tell the story of William Walker as it has never been told before." —T. J. Stiles, winner of the Pulitzer Prize for The First Tycoon: The Epic Life of Cornelius Vanderbilt and Custer's Trials: A Life on the Frontier of a New America

"William Walker's Wars offers a gripping account of a forgotten and troubling slice of American history. Scott Martelle knows how to tell a story. Using a great mass of source materials and a novelist's eye for detail, he superbly explores the complex truths of Manifest Destiny and human ambition." —Jonathan Eig, author of Get Capone and Ali: A Life

"Martelle presents a well-written and researched narrative, captivating in scope."—Booklist

"This mesmerizing cautionary tale is sure to fascinate armchair historians." --Publishers Weekly

"For an interesting look at a largely obscure part of United States history, this volume is highly recommended." --New York Journal of Books

"A fascinating biography…Mr. Martelle, an editorial writer for the Los Angeles Times, recounts Walker's expedition in such meticulously researched detail."  ---The Wall Street Journal