No Safe Spaces (Hardcover)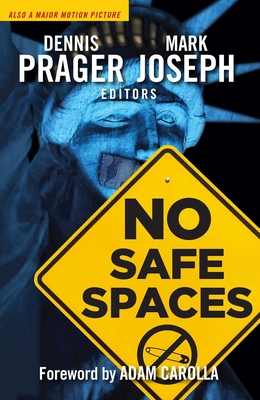 $25.99
Not currently on the shelf, but we can order it, to pick up in store or have shipped from our remote warehouse.
Description
---
YOU HAVE THE RIGHT TO TO REMAIN SILENT

Terrifying violence on college campuses across America. Students lashing out at any speaker brave enough to say something they disagree with. Precious snow flakes demanding "Safe Spaces" to protect them from any idea they haven't heard from their liberal professors. In this book and the accompanying movie, Dennis Prager, Mark Joseph, and Adam Carolla expose the attack on free speech and free thought. It began in the universities, but—fair warning—it's coming to your neighborhood and your workplace.

"No Safe Spaces is a film every American should see. I could barely move when it was over. Powerful, emotional, and a call to action for anyone worried about the intellectual fascism happening in this country. A brave, timely, and important film." —MEGYN KELLY, former FOX News anchor and host of Megyn Kelly Today

"There is no free speech in America for free thinkers! You can have free speech in America but only if you say what everybody else agrees with. It's not enough to 'live and let live' now. The psycho-elite believe 'silence is violence' and you must actively promote what THEY want no matter how vile or reprehensible it is to you. George Orwell lives! They should've called Orwell 'Nostradamus' because his most frightening prophecies have come to pass, as you will witness in No Safe Spaces!" —MANCOW MULLER, radio phenomenon

"An excellent film, the best I've seen on the subject of free speech. I especially like Dennis's line, 'They have to believe we are evil; otherwise they'd have to debate us.' Perfect!" —CAL THOMAS, America's #1 syndicated columnist
About the Author
---
Dennis Prager is a national bestselling author, columnist, and nationally syndicated radio talk show host. A noted thinker who is equally at home in the secular and religious worlds, he taught the first five books of the Hebrew Bible (the Torah) verse by verse from the Hebrew for more than twenty-five years at the American Jewish University in Los Angeles. He is the author of many books including The Rational Bible, The Ten Commandments: Still the Best Moral Code, Happiness Is a Serious Problem: A Human Nature Repair Manual, and Still the Best Hope: Why the World Needs American Values to Triumph, and is the co-founder of Prager University.

Mark Joseph is an award-winning music and film producer, author, columnist, commentator and founder of MJM Entertainment Group. Mark has worked in the development and/or marketing of 53 films including Ray, Holes, I Am David, The Chronicles of Narnia, Because of Winn-Dixie, The Passion of The Christ, Little Boy, and Son of God; and is the author of several books including Faith, God, and Rock and Rolland Rock Gets Religion. He is a regular contributor to USA Today, Foxnews.comand The Huffington Post and has written widely on politics and pop culture for a variety of publications including Forbes, Investor's Business Daily, Christianity Today, The Jewish Press, Billboard and others. Mark lives in Southern California with his family.