Who Really Feeds the World?: The Failures of Agribusiness and the Promise of Agroecology (Paperback)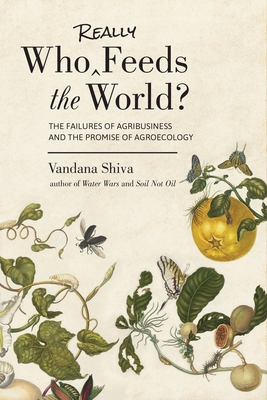 $14.95
Not currently on the shelf, but we can order it, to pick up in store or have shipped from our remote warehouse.
Description
---
Debunking the notion that our current food crisis must be addressed through industrial agriculture and genetic modification, author and activist Vandana Shiva argues that those forces are in fact the ones responsible for the hunger problem in the first place. Who Really Feeds the World? is a powerful manifesto calling for agricultural justice and genuine sustainability, drawing upon Shiva's thirty years of research and accomplishments in the field. Instead of relying on genetic modification and large-scale monocropping to solve the world's food crisis, she proposes that we look to agroecology—the knowledge of the interconnectedness that creates food—as a truly life-giving alternative to the industrial paradigm. Shiva succinctly and eloquently lays out the networks of people and processes that feed the world, exploring issues of diversity, the needs of small famers, the importance of seed saving, the movement toward localization, and the role of women in producing the world's food.
About the Author
---
Vandana Shiva is a physicist, world-renowned environmental thinker and activist, and a tireless crusader for economic, food, and gender justice. She is the author and editor of many influential books, including Making Peace with the Earth, Earth Democracy, Soil Not Oil, Staying Alive, Stolen Harvest, Water Wars, and Globalization's New Wars. Dr. Shiva is the recipient of more than twenty international awards, among them the Right Livelihood Award (1993); the John Lennon-Yoko Ono Grant for Peace (2008); The Sydney Peace Prize (2010); and the Calgary Peace Prize (Canada, 2011). In addition, she is a board member of the World Future Council and one of the leaders and board members of the International Forum on Globalization (whose other members include Jerry Mander, Edward Goldsmith, Ralph Nader, and Jeremy Rifkin). She travels frequently to speak at conferences around the world.
Praise For…
---
Praise for Who Really Feeds the World?

​"[Shiva] makes many points that refute reflexive anger and demand immediate discussion. [She] brings new urgency to her explanations of the problems caused by monoculture agriculture, anchored by corn and soybeans in America... A book to jump-start conversations about a crucial subject."—Booklist


Praise for Vandana Shiva
 
"Her fierce intellect and her disarmingly friendly, accessible manner have made her a valuable advocate for people all over the developing world."—Ms. magazine
 
"A rock star in the worldwide battle against genetically modified seeds."—Bill Moyers
 
"Shiva is a burst of creative energy, an intellectual power."—The Progressive
 
"One of the world's most prominent radical scientists."—The Guardian