Wild Bios: Edgar Allan Crow (Board book)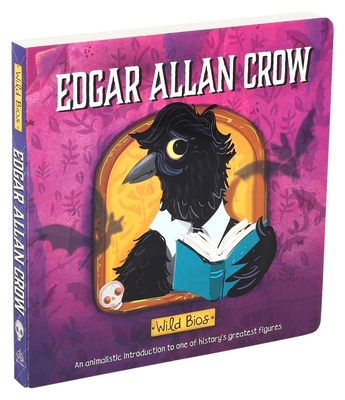 Description
---
Introduce babies to the master of the macawbre in this adorable biographical board book with an animalistic twist!

Meet one of history's greatest figures in this adorable board book with an animal twist! A group of crows is called a murder, and no one knows murder quite like the "master of macawbre," Edgar Allan Crow. With a feather on the pulse of poetry and the horror genre, he made lasting contributions to American literature that inspired countless others. With hilarious puns and colorful illustrations, this book brings his literary legacy to life!
About the Author
---
Courtney Acampora holds a B.A. in art history from San Diego State University and a M.A. from the University of Arizona. Currently working in publishing, Courtney's lifelong love for both art and books fused together and gave her the opportunity to write and create engaging books for kids. Courtney lives in San Diego, California. 

Maggie Fischer is originally from Oregon, but now lives in Seattle, Washington, after receiving her B.A. in English from Gonzaga University. The daughter of a children's librarian, Maggie has grown up surrounded by books and feels impossibly lucky to write and edit books for kids. She spends her time trying not to get worried about the increasing number of crows in her backyard, petting her enormous cat, Finch, and drinking more coffee than is probably healthy.

Amanda Enright has illustrated a range of children's books, with subjects ranging from fairies and elves to religious characters, and from ants to elephants. Her bright colors and distinctive style have proved a hit with children internationally.