Chibi Usagi: Attack of the Heebie Chibis (Paperback)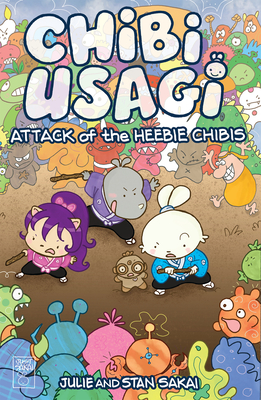 Description
---
The rich world of Usagi Yojimbo, now more accessible to readers of all ages in this chibi-style original graphic novel.

Stan Sakai's beloved rabbit samurai has won countless fans over his 35-year history, thanks to a clever blend of thrilling action, heartwarming characters, and a realistic portrayal of Japanese culture. Chibi Usagi brings these fun and thoughtful stories to middle-grade readers as an original graphic novel packed with adorable art and captivating energy.

While fishing for freshwater eels, Chibi Usagi, Chibi Tomoe, and Chibi Gen rescue a Dogu, a clay creature from Japan's prehistory. The Dogu's village has been enslaved by the Salamander King and his Heebie Chibi minions and are forced to work in their mines. Chibi Usagi and his friends must rescue the Dogu people and eliminate the threat of the Salamander King forever in this feature-length story of adventure, humor, and slippery eels.
About the Author
---
Stan Sakai was born in Kyoto, Japan, and grew up in Hawaii. He began his comic book career by lettering Sergio Aragonés' Groo the Wanderer. He also worked with Stan Lee, lettering the Spider-Man Sunday newspaper strips for 25 years. Sakai is most famous for his original creation, Usagi Yojimbo, an epic graphic novel saga that began in 1984 and now spans more than 34 volumes. It features Miyamoto Usagi, a samurai rabbit living in early-seventeenth-century Japan.

Usagi has been published in sixteen languages and Sakai has been honored with a number of awards, including six Eisner Awards, two Harvey Awards including one for Best Cartoonist, the Japanese American National Museum's Cultural Ambassador Award, Parent's Choice Award, and an American Library Association Award. Skillful weaving of history, folklore, and Japanese culture into his work has made Sakai's Usagi Yojimbo a favorite among educators as a curriculum tool. Usagi has also teamed with the Teenage Mutant Ninja Turtles in their TV series, comic book crossovers, and toy lines. An Usagi Yojimbo TV show is in development, produced by Gaumont Studios, Sakai, James Wan's Atomic Monster, and Dark Horse Entertainment. Stan is married to artist Julie Fujii Sakai with whom he collaborates on Chibi Usagi and other projects. They live in Southern California.