Hidden Hand: Exposing How the Chinese Communist Party is Reshaping the World (Hardcover)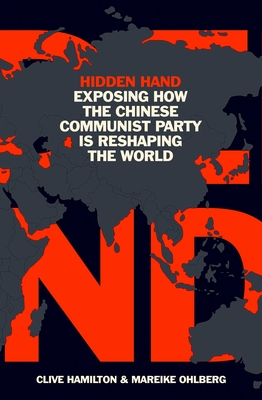 $30.00
Not currently on the shelf, but we can order it, to pick up in store or have shipped from our remote warehouse.
Description
---
'Hidden Hand is heavily sourced, crisply written and deeply alarming.' The Times

'This is a remarkable book with a chilling message.' The Guardian

The Chinese Communist Party is determined to reshape the world in its image. The party is not interested in democracy. It sees only a bitter ideological struggle with the West, dividing the world into those who can be won over, and enemies. Many political and business elites have already been lured to their corner; others are weighing up a devil's bargain.

Through its enormous economic power and covert influence operations, China is now weakening global institutions, aggressively targeting individual corporations, and threatening freedom of expression from the arts to academia. At the same time, Western security services are increasingly worried about incursions into our communications infrastructure.

In a landmark study combining meticulous research with unique insights, Hidden Hand exposes the Chinese Communist Party's global program of subversion, and the threat it poses to democracy. We have already missed too many warning signs – now it is time to wake up.
About the Author
---
Clive Hamilton is an Australian academic and author. His book on China's influence operations in Australia, Silent Invasion, was a national bestseller that propelled him to the centre of the China debate at home and abroad. His articles have appeared in the Guardian, New York Times, Foreign Affairs and THES.

Mareike Ohlberg is a senior fellow in the Asia Program of the German Marshall Fund. She previously worked at the Mercator Institute for China Studies, where she co-authored the landmark report 'Authoritarian Advance: Responding to China's Growing Political Influence in Europe'. Her articles have been published in the New York Times, Foreign Affairs and Neue Zürcher Zeitung.
Praise For…
---
'A remarkable book with a chilling message… The book's convincing message is plain… Everyone must stay on their guard.'
— Will Hutton, The Guardian

'Hidden Hand is heavily sourced, crisply written and deeply alarming.'
— The Times

'Revelatory… A partisan, detailed and necessary examination'
— Sunday Times

'Hidden Hand should be required reading for our diplomats, intelligence analysts, military officers and businesspeople.'
— The Australian

'An in-depth explanation of how China conducts its operations to gain important knowledge – ranging from tech secrets to financial information.'
— International Business Times

'It takes courage to prod somnolent liberal democracies out of their complacent and dangerous incomprehension of the CCP. We are in Hamilton's and Ohlberg's debt.'
— Journal of Democracy

'[Hidden Hand] should be required reading for anyone working in government and policy, the private sector, or media — really, for anyone with a stake in resisting the shadowy machinations of a totalitarian regime that seeks to exert its will on free societies.'
— National Review