The Middle East in 1958: Reimagining a Revolutionary Year (Hardcover)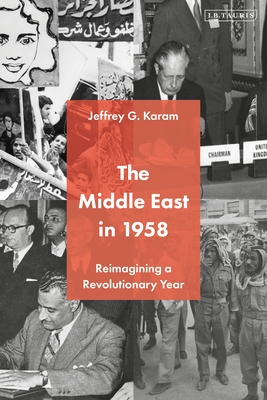 Email or call for price.
Not currently on the shelf, but we can order it, to pick up in store or have shipped from our remote warehouse.
Description
---
The revolutionary year of 1958 epitomizes the height of the social uprisings, military coups, and civil wars that erupted across the Middle East and North Africa in the mid-twentieth century. Amidst waning Anglo-French influence, growing US-USSR rivalry, and competition and alignments between Arab and non-Arab regimes and domestic struggles, this year was a turning point in the modern history of the Middle East.
This multi and interdisciplinary book explores this pivotal year in its global, regional and local contexts and from a wide range of linguistic, geographic, academic specialties. The contributors draw on declassified and multilingual archives, reports, memoirs, and newspapers in thirteen country-specific chapters, shedding new light on topics such as the extent of Anglo-American competition after the Suez War, Turkey's efforts to stand as a key pillar in the regional Cold War, the internationalization of the Algerian War of Independence, and Iran and Saudi Arabia's abilities to weather the revolutionary storm that swept across the region. The book includes a foreword from Salim Yaqub which highlights the importance of Jeffrey G. Karam's collection to the scholarship on this vital moment in the political history of the modern middle east.
About the Author
---
Jeffrey G. Karam is an Assistant Professor of Political Science at the Lebanese American University. He is also an Associate at Harvard University's Middle East Initiative. He is the author of several articles, book chapters, and policy briefs on U.S. intelligence and foreign policy in the Middle East. He is the recipient of several awards, including the Christopher Andrew-Michael Handel Prize for the best article in Intelligence and National Security in 2017.