Qanon, the Storm Is Here: Who is Q? The Deep State Conspiracy Against America and The Great Awakening (Paperback)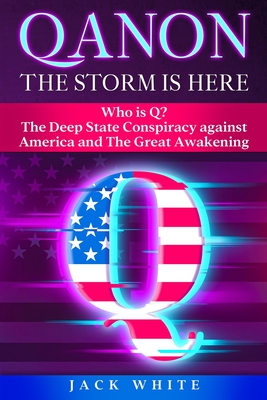 $15.99
Not currently on the shelf, but we can order it, to pick up in store or have shipped from our remote warehouse.
Description
---
WHAT HAS FAKE NEWS MEDIA BEEN HIDING FROM AMERICANS WHO VALUE JUSTICE, THEIR FAMILY AND THEIR COUNTRY?
You probably have already been convinced or at least heard claims that "Q" is a hoax or a "conspiracy theory." But deep down inside, you are still curious whether or not that's the truth.
And let me tell you ... I was a total skeptic too. I also thought that this is some joke, and people just don't know what to do during their free time, but as I dived deeper and deeper, I realized how far from jokes it really is...
There were just too many signs:
Forgotten Billionaire Jeffrey Epstein...
Hillary Clinton and Pizzagate...
Covid-19 Exposure...
Ukraine Events...
and now the Rigged Election...
And these are just the big ones. As you go through the book, it will make a perfect sense to you once you learn more about those stories. And my guess is that you also have been a little suspicious about what is going on in the USA and around the World during recent years.
Take a look at just a few things you'll discover inside this book:
- What is Q or QAnon? And
- why some people call it a "conspiracy theory?"
- Is it Fact or Fiction? Here are 9 things you need to know about "Q"
- What is the Deep State and how it controls people's minds
- Why Reddit, Facebook, Twitter, and other social media platforms are removing posts and banning QAnon
- The Great Awakening and the fight for earth, of good versus evil
- Much much more...
After his election, President Trump mentioned the "calm before the storm". Now the storm is here and the days of the Deep State are numbered.
Let me tell you this: it's not about what you believe and what you don't believe. Give this book a try, and it will surprise you and will open your eyes to the truth