Development, Social Justice, and Civil Society: An Introduction to the Political Economy of Ngos (Paperback)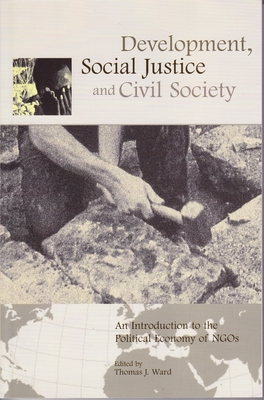 Description
---
Noted NGO figures from around the world contributed to this volume about how NGOs contribute to the development of society. Included is a proposed code of ethics for NGOs.
Fear and Want. These two words summarize the sufferings of humankind across history. Endeavoring to free people from fear and want is both the most noble and the most difficult challenge that we face. To promote human security is an ambitious goal, but it is commensurate with the needs and aspirations of the twenty-first century. --Fran ois Fouinat, Executive Director, UN Commission on Human Security
An NGO should not enter into collaboration with a for-profit corporation if the main motivation of the corporation is to gain a market advantage over competitors.--WANGO Code of Ethics and Conduct for NGOs
The corporate community must accept that business is not merely charged to manage risk, or make sound investment decisions and attempt to cope with economic uncertainties. Those are the easier tasks. The corporate community needs to reflect on what it can do to bring about changes that will create a new ethical, and level playing field on which business can function place fairly and transparently, without corruption.--Tunku Abdul Aziz, Vice Chairman, Transparency International
In 1991 less than 10% of our projects had any input from NGOs. By the end of the 1990s, over half of Asian Development Bank (ADB) projects included NGO input.--Robert Dobias, Head, NGO Center, Asian Development Bank
NGOs that challenge existing political arrangements and challenge those government policies, which pose a threat to human security, can face serious repercussions from the implicated governments that are unwilling to hear public criticism of their actions. Some governments have sought to restrict the power of NGOs by creating legislation, which limits their sanctioned activity to the non-political arena.--Sarah Mich'l, Harvard University Global Equity Initiative
This book is an introduction to the political economy of NGOs. Today NGOs are recognized as vital partners for government and industry. They address social and environmental problems with greater efficiency and cost effectiveness than government agencies. Multilateral institutions such as the United Nations and the World Bank increasingly rely on NGOs to assist in the oversight of the projects and programs that they support. This text reviews the historical evolution that has led to the mainstreaming of NGOs and, in some cases, to corruption, graft, and deviation from their founding principles. It also describes the challenges that NGOs face in less developed countries. While NGOs are applauded byinternational organizations and by the governments of developed countries, they still are viewed as a political threat in many developing countries where they are deliberately marginalized by legal constraints and bureaucracies that make their survival almost impossible.
About the Author
---
Thomas J. Ward is the Dean of the International College at the University of Bridgeport.