Good Cop/Bad Cop: Environmental NGOs and Their Strategies Toward Business (Paperback)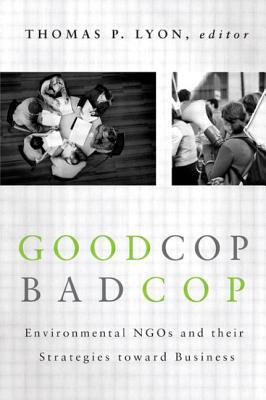 Email or call for price.
NOT AVAILABLE PLEASE DON'T ORDER
Description
---
Non-governmental organizations (NGOs) play an increasingly prominent role in addressing complex environmental issues such as climate change, persistent bio-accumulative pollutants, and the conservation of biodiversity. At the same time, the landscape in which they operate is changing rapidly. Markets, and direct engagement with industry, rather than traditional government regulation, are often the tools of choice for NGOs seeking to change corporate behavior today. Yet these new strategies are poorly understood-by business, academics, and NGOs themselves. How will NGOs choose which battles to fight, differentiate themselves from one another in order to attract membership and funding, and decide when to form alliances and when to work separately? In Good Cop/Bad Cop, Thomas P. Lyon brings together perspectives on environmental NGOs from leading social scientists, as well as leaders from within the NGO and corporate worlds, to assess the state of knowledge on the tactics and the effectiveness of environmental groups. Contributions from Greenpeace, Rainforest Action Network, the Environmental Defense Fund, and the World Wildlife Fund describe each organization's structure and key objectives, and present case studies that illustrate how each organization makes a difference, especially with regard to its strategies toward corporate engagement. To provide additional perspective, high-level executives from BP and Ford share their views on what causes these relationships between companies and NGOs to either succeed or fail. For students of the social sciences and NGO practitioners, this book takes an important step in addressing an urgent need for objective study of NGO operations and their effectiveness.
About the Author
---
Thomas P. Lyon is the Dow Professor of Sustainable Science, Technology and Commerce at the University of Michigan Ross School of Business and a former Gilbert F. White Fellow at Resources for the Future. He is the editor of The Political Economy of Regulation and the author of Corporate Environmentalism and Public Policy.