The Nocturnals: The Chestnut Challenge (Paperback)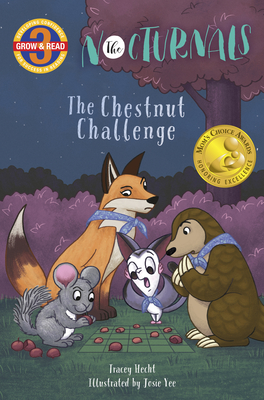 $5.99
Currently sold out, can usually be ready for pick-up or shipping in 2-5 business days
Description
---
The Chestnut Challenge is a Mom's Choice Awards(R) Gold Recipient
In The Chestnut Challenge, Tobin, a sweet pangolin, Bismark, a loud-mouthed sugar glider, and Dawn, a serious fox, are playing a game of Chestnuts when Chandler, a conniving chinchilla, challenges Tobin for the title of Chestnut Champion. However, after a series of strange distractions occur, the Brigade begins to suspect that something is not quite right. Chandler is a competitive chinchilla...but could he also be a cheater?
Readers will delight in an entertaining animal adventure while learning about playing games for fun and displaying good sportsmanship.
Includes bonus Nocturnals fun facts and animal glossary (Ages 6-8)
Themes include good sportsmanship, forgiveness, and friendship.
Visit the Nocturnals World online to download printable activities including makerspace crafts, sight word games, The Nocturnals kindness game, language arts educator guides, and more
About the Author
---
Tracey Hecht has written, directed, and produced for film. The American Booksellers Association chose the first book in her critically acclaimed middle grade series, The Nocturnals: The Mysterious Abductions, as a Kids' Indie Next List pick. This year, her Grow & Read early reader book, The Chestnut Challenge, was given a Mom's Choice Gold Award. In partnership with the New York Public Library, Tracey created a Read Aloud Writing Program that she has since conducted--both in person and virtually--in over 100 schools, libraries, and bookstores across the country. Tracey currently splits her time between New York City and Oquossoc, Maine, with her husband, four children, and dog, Penny. Josie Yee is an award winning illustrator specializing in children's books. She lives in New York City with her daughter, Ana, and their cat, Dude.