Fake News (Spanish Edition) (Paperback)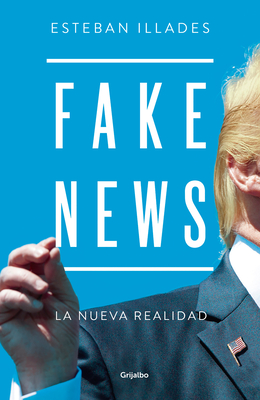 $13.95
Not currently on the shelf, but we can order it, to pick up in store or have shipped from our remote warehouse.
Description
---
El mayor peligro del acceso ilimitado a la inofrmación es que siempre hay alguien que la acepta sin cuestionar.


En la prensa escrita y en la digital, en las redes sociales y en los medios tradicionales, un torrente de mentiras, propaganda e inexactitudes —
motivadas por el afán de dinero, notoriedad o poder
— se mezcla y confunde con el reporte de hechos reales. Jamás ha sido tan fácil ser engañado: a la censura y el espionaje se han sumado la sobreinformación y las
fake news
.
En este escenario, que parece sacado de una distopía orwelliana, la ética periodística, la confirmación y el rigor parecen reliquias olvidadas.
El fenómeno es poderosísimo y ya define el rumbo del mundo: en buena parte gracias a la difusión de «noticias» falsas, Donald Trump ganó la Presidencia de Estados Unidos.
Y no es un fenómeno ajeno. En México, las
fake news
son pan de todos los días, como lo demostró el «caso Frida Sofía». Ya jugaron un papel clave en la elección de 2012 y sin duda serán protagonistas este 2018.
En este libro, el periodista Esteban Illades examina decenas de casos en los que la confusión y la falsedad han llevado a resultados catastróficos, y explora las razones de que —en plena Era del Conocimiento— sigamos creyendo datos imposibles y, por el contrario, negando evidencias irrefutables.
ENGLISH DESCRIPTION
The gravest danger in unlimited access to information is that there's always someone who accepts it without question.

In print and digital press, on both social and traditional media, a torrent of lies, propaganda, and inaccuracies gets confused with the reporting of real facts. In this Orwellian scenario, journalistic ethics, corroboration, and accuracy seem like forgotten relics.

The phenomenon is powerful and is already affecting world events: thanks in good part to "fake news," Donald Trump won the U.S. presidency. And it's not an isolated event; in Mexico, fake news is an everyday event, as evidenced in the case of "Frida Sofía." In this book, journalist Esteban Illades examines dozens of cases in which confusion and falsehoods have led to catastrophic results, and explores the reasons why—in the heart of the Age of Knowledge—we continue to believe impossible facts and deny irrefutable evidence.
About the Author
---
Esteban Illades es editor en la revista Nexos y columnista en el periódico Milenio, donde cada viernes publica «Contexto», un espacio en el que presenta información para que el lector pueda entender mejor las noticias semanales. Su interés por las fake news lleva muchos años, pero se intensificó cuando cubrió la Convención Nacional Republicana de 2016, en la que ese partido nominó a Donald Trump como candidato a la Presidencia de Estados Unidos. Desde entonces se ha dedicado a investigar el fenómeno e intentar desmentir las falsedades que día a día circulan por internet. Su libro anterior, La noche más triste, sobre la desaparición de 43 estudiantes normalistas en Iguala, Guerrero, fue publicado por Grijalbo en 2015.