Armageddon 2022: La Prossima Guerra Mondiale?: Russia e Cina contro all'India e all'Occidente; Crisi Globale - Minacce Nucleari - Guerr (Paperback)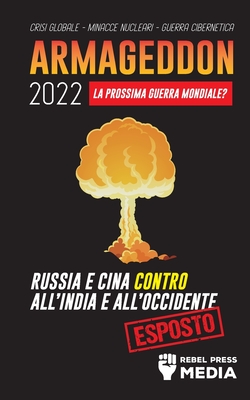 $15.99

Not currently on the shelf, but we can order it, to pick up in store or have shipped from our remote warehouse.
Description
---
Rebel Press Media scava in profondit nella verit non detta su come i media mainstream si sono venduti e continuano a mentire su ci che sta realmente accadendo...
Collegando i punti tra lo stato attuale del mondo e la verit sulle prossime guerre mondiali, il controllo della popolazione, i chip dei vaccini e i passaporti.
Rebel Media Press spiega come si svolger il Grande Reset e come i nostri governi, i globalisti, la Cina e la Russia detteranno la politica futura in Occidente.
- Che impatto avr su di te "Build Back Better"?
- Cosa succeder nella prossima guerra mondiale?
- Che ruolo avr il coronavirus nell'avanzamento del Nuovo Ordine Mondiale?
- Cosa significa tutto questo, e come puoi prepararti al prossimo capitolo della nostra storia?